Central Services Building (CSB) Refurbishment
Thu, 11 Jul 2013 09:43:00 BST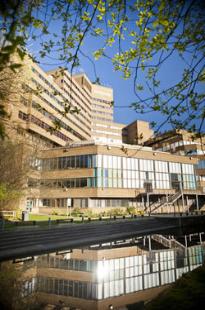 ‌Work has started on the University Square elevation around the main entrance‌ of the Central Services Building (CSB). This August will see the start of major refurbishments to the windows and external fabric of the CSB.
The work will be carried out in four phases over a 14 month period and at some point everyone who works in or uses the CSB will be affected.
As with all refurbishment work on campus, we will minimise any disruption as much as possible and we ask for your patience during this time. All work will be conducted from the outside of the building and no team will be required to relocate.
The good news is that these improvements will contribute to our continuing efforts to develop our Estate, creating an attractive campus to learn and work in.
Here is a summary of the planned works:
All 2,530 windows and panels will be removed. They have served us for 40 years and we will no longer need secondary glazing.

Cavity insulation will be applied to the walls.

Wall ties will be replaced and re-pointing completed. Repairs will be made to sills and parapets.

Brick work will be cleaned.
The benefits we can look forward to are:
Improved insulation and reduction in fuel bills.

Reduced heat gain from the sun and improved ventilation.

Less glare.

Long term safety improved.

Extension of CSB's useful life.

Improved external appearance.
The work is being done in four phases starting with the University Square elevation around the main entrance. This work will be completed first to ensure the opening of the Learning and Leisure Centre (LLC) is not marred by repair work. The team will then work anti-clockwise around the building, starting with the service road side, then the "East elevation" looking towards the canal and finally the "North side" above the new sports centre.
The windows will be screened from the inside and colleagues will be able to continue their own work as the contractors go about their business. We do appreciate, however, that this will not be a wholly comfortable process but we are confident disruption will be minimised.
You will be informed when you can expect work to take place in your department. Some areas may be affected more than once as the work progresses around the building.
If you would like more information you can download the full details here: CSB Refurbishment‌
If you have any further questions please email: estates@hud.ac.uk