The Shanghai connection
Thu, 03 Nov 2011 10:47:00 GMT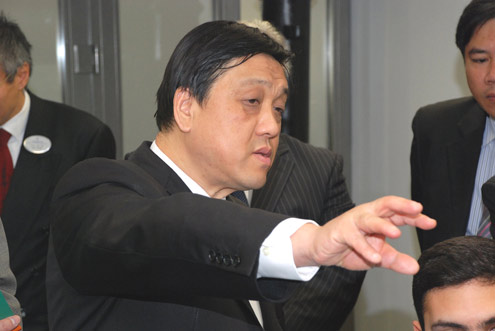 Xu Xiaoming, President of the University of Shanghai for Science and Technology, during his visit to the University of Huddersfield
ONE of the most respected and important figures in Chinese Higher Education has paid a fact-finding visit to the University of Huddersfield.
The VIP visitor was Xu Xiaoming, who is President of the University of Shanghai for Science and Technology. His campus is the base for the Sino-British College, at which the University of Huddersfield runs a popular degree course in events management.
This year, University of Huddersfield's Vice-Chancellor, Professor Bob Cryan, flew to Shanghai to attend the course's graduation ceremony, at which awards were bestowed on 80 students. He met President Xu and plans were made for a reciprocal visit.
President Xu, who is himself an engineer, visited the University's world-renowned Centre for Precision Technologies, which is home to a Centre for Innovative Manufacturing, backed by the Engineering and Physical Sciences Research Council and a roster of leading companies.
And he found himself not only among fellow scientists but among fellow Chinese as well – including a professor who is globally respected in her field.
The EPSRC Centre's director is Chinese-born Professor Xiangqian Jiang and Professor Jiang also has several Chinese PhD students aiding her world-class research in metrology.
The delegation toured the Centre's Nanotechnology Labs, the Optics Lab, CNC Labs, the new Ion Accelerator Lab and the new measurement services facility created by the National Physical Laboratory within the Huddersfield research centre.
Huddersfield scientists held talks with President Xu and the Chinese delegation, who also met another of the University's Chinese-born academics, Professor Yau Jim Yip, the Dean of the School of Computing and Engineering. The delegation was also welcomed by Professor Alan Myers, who heads the Engineering Control and Machine Performance Research Group and the physicist Professor Steve Donnelly, whose work revolves around the interaction of energy particles with matter.
It is hoped that is the ties being forged between the two universities will result in further collaboration.
"The possibility of President Xu's visit," said the University's Vice-Chancellor, Professor Bob Cryan, "was put in place when I attended the graduation ceremony at the Sino-British College in Shanghai in the summer. My colleagues and I were given a fabulous reception in China and we were keen to extend a warm welcome to President Xu on his visit to the UK."