Your Huddersfield UniApp for Android & iOS
Fri, 11 Oct 2013 11:33:00 BST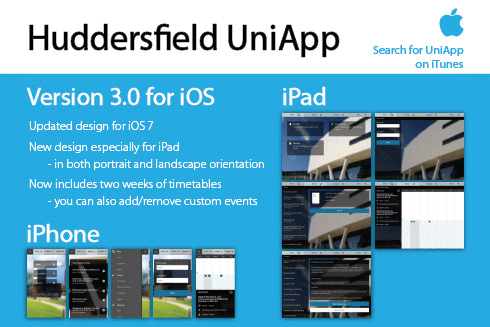 Your UniApp just got better! The design has been updated for iOS 7 and the latest version of Android, enabling you to access the UniApp on your iPhone, Android device and iPad.
It now also includes two weeks of your timetable and you can add or remove custom events (on iOS, coming soon to Android).
So what are you waiting for? Try it out for yourself iOS / Android
Please be aware that there are apps on the iTunes and Android store such as AppGrad that claim to have free features for the University of Huddersfield. We do not advise you use them as we cannot validate the security of your identity or your data. We have no association or links with these developers so cannot guarantee the functionality of University resources through these Apps.
The only official App for the University is UniApp where you can access your library account, timetable, check PC availability and more. See our website for further details: UniApp
We also now have UniLearn available through the Blackboard Mobile Learn App: UniLearn