Your Heritage - An Open Day
Thu, 28 Jun 2012 12:20:00 BST
Ask an expert about about heritage - free open day event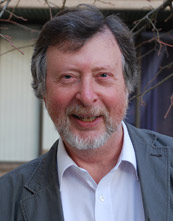 Do you have an idea for a heritage project? An unidentified object that you would like explained? A question about the place where you live? Experts at a unique history event at the University of Huddersfield are ready to help you.
'Your Heritage – An Open Day' takes place at the University's Creative Arts Building on Saturday 30 June (10am-4pm). The event is organised by Sound, Craft, Vision, Place – a team of Huddersfield researchers whose goal is to support and encourage local groups and enthusiasts to explore their heritage for themselves.
You can pop in for a short time or spend the whole day. Free and open to all, the event is associated with the Heritage Lottery Fund's All Our Stories programme. Advice will be available to community groups that might want to apply.
"Heritage doesn't stop at castles or old buildings," says team member Professor Richard Morris (pictured). "It is what you find interesting or want to explore. Themes to be featured include sport history, Ted Hughes and literary landscapes, advice on how to publish the information you collect, battlefields, mining and fashion, the meaning of Anglo-Saxon carved stones in local churches, and organising oral history projects using digital technology."
Britain from Above
Also to be featured will be Britain from Above, a new website which from 25 June makes more than 15,000 aerial images freely accessible to the public for the first time - see images below. The pictures are from the Aerofilms Collection of over one million items built up between 1919 and 2006. The website is designed to encourage public participation. Users can download images and add information about images that the expert cataloguers have been unable to identify.
Members of the Britain from Above team from English Heritage will be present to introduce the collection, show pre-war aerial photographs of Huddersfield and surrounding places, and discuss them with residents.
The open day will have an informal 'Antiques Roadshow' element where experts will be on hand to try to identify 'mystery' artefacts brought along by the public. And families whose forebears fought in the world wars will be helped to understand service records and other memorabilia.
The day will also include archive tours and opportunities to meet partners from the Battlefields Trust, National Coal Mining Museum, Royal Armouries, West Yorkshire Archaeological Advisory Service, Huddersfield Local History Society, Huddersfield Civic Society, Ravensthorpe Heritage Project and Kirklees Council History and Heritage.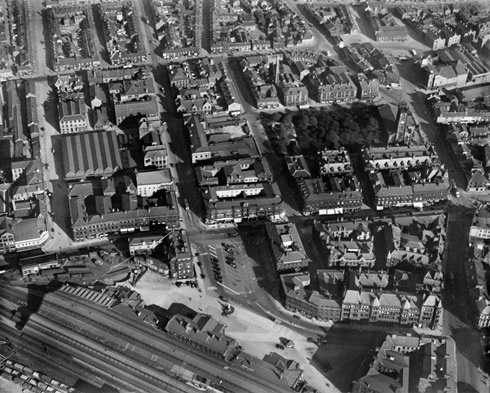 Above - Huddersfield Town Centre and Railway Station in 1928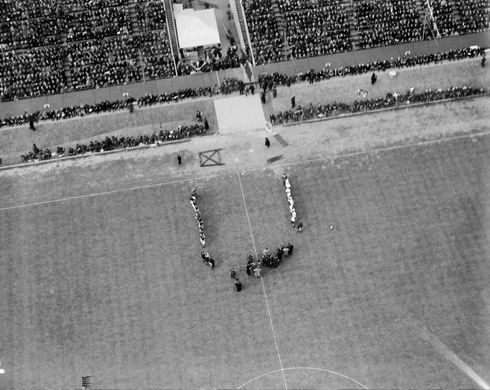 Above - Huddersfield Town footbal team at the 1928 FA Cup Final at Wembley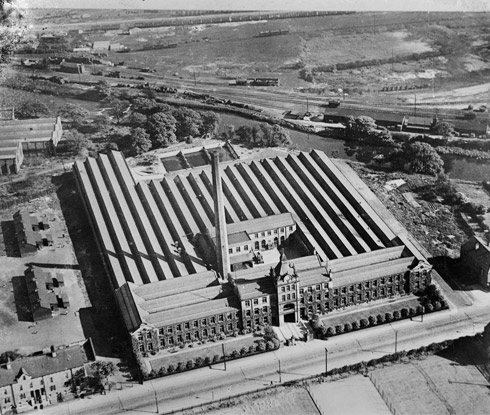 Above - Trafalgar Worsted Mill, Deighton, in 1928