Wound Care researchers scoop more awards
Tue, 05 Mar 2013 14:25:00 GMT
Prize-winners at Journal of Wound Care Awards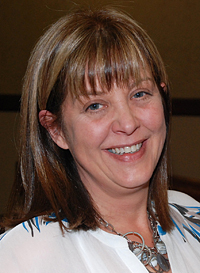 RESEARCH headed by a University of Huddersfield expert on wound care has won a fresh set of awards.
Dr Karen Ousey (pictured) and her colleagues have already been honoured at the Wounds UK Conference (click here for more info) and now they have come top in two categories at the 2013 Journal of Wound Care Awards.
Their winning research in the Best Original Research category was for work on surgical site infections which were carried out by Dr Ousey and her University of Huddersfield colleagues Steve Lui and Dr John Stephenson, alongside Dr Ross Atkinson and Consultant Spinal Surgeon Mr Brad Williamson at Salford Royal NHS Foundation.
Dr Ousey came second in the category for Patient Experience for a project conducted in tandem with the Mid Yorkshire NHS Trust and the South Tyneside Foundation Trust. It was an investigation into the use of the technique known as Negative Pressure Wound Therapy (NPWT) for the treatment of serious wounds.
This involves the attachment of a device which creates a vacuum and pulls the wound upwards. It can result in faster healing, but it does mean that patient must at all times carry with them the device, which can be the size of a hardback book.
"What we hypothesised at the beginning of the study was that Negative Pressure Wound Therapy is really good for healing wounds quicker than traditional dressings, but we thought that patients' quality of life would decrease because they are attached to a machine," said Dr Ousey.
This was tested by involving 21 patients in a survey. Half of them had been treated with traditional dressings and half of them had NPWT devices, the most appropriate treatment having been determined by a specialist nurse.
When the results of the survey were analysed, researchers were surprised to discover that during the first two weeks of treatment, patients with NPWT devices registered higher social life scores, possibly because they had greater confidence in their treatment.
Although the quality-of-life scores between traditional dressings and NPWT evened out after two weeks, the fact that smaller, more convenient devices are being developed means that they could be more widely used in future, the researchers have concluded.
Dr Ousey and her colleagues have published the result of the survey and their conclusions in the International Wound Journal.