When in Rome
Fri, 01 Jun 2012 15:49:00 BST
Professor looks to reconcile 'Classicism and Orientalism' in Rome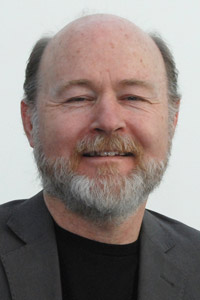 PROFESSOR Nicholas Temple (pictured) is Australian-born and his academic career has taken him far and wide. But the culture and civilisation of Italy – Rome especially - have been a constant factor in his research and his writings.
In fact, Professor Temple's appointment as Professor of Architecture at the University of Huddersfield has coincided with another distinction, a four-month Rome Fellowship awarded by the Yale-based Paul Mellon Trust.
This will take him to the British School at Rome (BSR) where he will carry out research for his latest project – a book entitled 'Sir William Chambers and the Grand Tour: Reconciling Classicism and Orientalism'.
Chambers was an eighteenth-century architect – best known for Somerset House and Kew Gardens - whose travels and studies took him to Italy, but he also absorbed Chinese influences. While in Rome, Professor Temple will research the reception of China and Chinese culture in the city during the seventeenth and eighteenth centuries.
His own absorption in the history, architecture and topography of Rome can be traced to the mid-1980s, when he was awarded the Rome scholarship to the BSR. He studied early Christian architecture, from the period of the Emperor Constantine. He has also investigated later periods in the city's history and last year published a book entitled 'renovatio urbis: Architecture, Urbanism and Ceremony in the Rome of Julius II', which examined the early sixteenth century.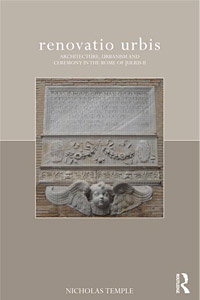 "Rome has evolved over a long period of time so that the topography has acquired a kind of textual or inscriptive meaning," says Professor Temple. "The things that are left and appropriated leave a kind of residue of meaning which is then re-interpreted in subsequent developments. It is like a series of palimpsests or layers of interpretation. This was evident during the time of Constantine and became very rich and complex during the early sixteenth century".
In addition to his wide ranging historical and cultural interests, Cambridge-educated Professor Temple has also been a practising architect. But the different dimensions of his academic and professional career stimulate each other.
"My research has always been embedded in practice," he says, emphasising the extent to which cities have evolved over time.
"The way that architecture has responded to existing or pre-existing urban contexts has led to a series of practices that I think are sometimes forgotten. There is a relationship here between innovation and tradition; enduring and meaningful innovative ideas are always embedded within a prevailing set of existing practices or traditions."
Professor Temple comes to the School of Art, Design and Architecture at the University of Huddersfield after teaching at a number of UK universities and lecturing widely overseas. Most recently, he was Professor of Architecture at the University of Lincoln, where his role included the organisation of several major international conferences and symposia on interdisciplinary and theoretical issues.
At Huddersfield he will principally be engaged in research but also deliver lectures and provide mentoring for researchers. He is also assembling a large scale research project entitled 'Redefining architectures in humanistic discipline'.
Italy continues to attract him, and not purely for research purposes. As the owner of a home in northern Tuscany, Italian food and culture are almost as much of a draw as the architecture of Rome.