We're Employer of the Year
Wed, 09 Nov 2011 15:35:00 GMT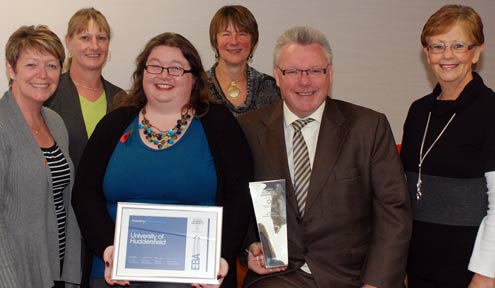 Winning team - Pictured with Martin Plant are (l-r) Nuala Murphy, Elaine Eastwood, Helen Walker, Christine Conway and Yvonne Harding.
ONCE again, the University of Huddersfield has notched up a notable success at the annual Business Awards run by the Huddersfield Daily Examiner newspaper. It has scooped the title Employer of the Year for 2011.
With its staff of 2,000 – serving the needs of 25,000 students – the University is one of the biggest enterprises and largest employers in the area. And it ensures that employees are able to learn and develop, in support of the University's overall strategy.
In order to ensure that individual training and development needs are continually identified, there are regular tests of employee attitudes and satisfaction. All members of staff take part in an annual appraisal.
The University offers no fewer than 330 special training programmes to its staff and is proud that since 1990 it has continually held the prestigious Investors in People award – the UK's leading people management standard.
Martin Plant, of the University's Staff Development team, accepted the Employer of the Year award at a special ceremony held at Huddersfield's Galpharm Stadium and hosted by TV's Harry Gration.
Said Mr Plant: "I am absolutely delighted to have won. It is for the team that I work with and for the people who have contributed to staff development at the University. The award is a recognition of the hard work they have put in and I'm really proud of all the effort we made."
Previous successes by the University in the Examiner Business Awards include the title Business Person of the Year, bestowed in 2009 on the Vice-Chancellor, Professor Bob Cryan.