Walking the Line
Fri, 27 Sep 2013 10:13:00 BST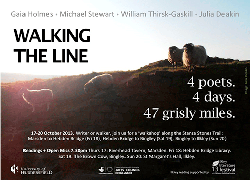 ‌Marsden to Ilkley, Stanza Stones Trail, 17-20 October‌
A group of poets – led by University lecturer and author of King Crow, Michael Stewart – will seek inspiration themselves and inspire other writers when they set out on a unique walking tour that takes them over tough moorland landscapes, heading towards one of the country's leading literature festivals.
Michael Stewart, a playwright, poet, novelist and Senior Lecturer in Creative Writing here at the University of Huddersfield, will be joined by three fellow writers who will set out from Marsden in the Colne Valley, near Huddersfield, and spend four days walking to Ilkley. These writers are multi-award winning poet Julia Deakin, acclaimed poet Gaia Holmes and rising star William Thirsk-Gaskill. At the start and the finish of their journey, along the journey itself, and on overnight stopovers in Marsden, Hebden Bridge and Bingley, they will stage performances and hold writers' 'walkshops.' Each evening event will include an open-mic session, so that anyone can get involved.
The route they will follow is a trail that is marked by the Stanza Stones, which were commissioned by the Ilkley Literature Festival in 2010. These are poems, responding to the Pennine landscape, that were written by the poet Simon Armitage and carved on to six rocks along the 47 miles from Marsden to Ilkley. Full details and a downloadable trail guide are available here They will be carrying Simon's sock with them and using it as a receptacle to collect money for charity along the way.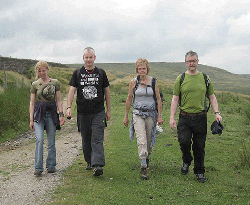 ‌
Michael Stewart explained that the Ilkley Festival was keen to keep up the momentum of the Stanza Stones project, so he devised the combination of walking tour, live performances and writers' 'walkshops'.
The writers selected by Michael to join him on the Stanza Stones walk not only had to be published poets who were good performers of their own work, but they also had to be physically fit enough to be able to complete the demanding hike.
But the very act of walking can unlock literary creativity, said Michael.
"The pace of walking matches the pace of writing," he explained. "There is a long tradition of writers finding poems on their walks – Wordsworth, of course, and more recently Simon Armitage."
Established writers' groups have been invited to the en route 'walkshops', but the events will be completely open, so that anybody can bring their work, added Michael. And at the evening performances, after the four Stanza Stones poets have had their slots, there will be open mic sessions. The event culminates on the final night of the Ilkley Literature Festival.
For more information, please go to their website here
Meeting points and times
Launch event: Thursday 17 October: Marsden
7.30pm – Riverhead Tarvern, Marsden, HD7 6BR (followed by open mic event).
Leg 1: Friday 18 October: Marsden
8.30am – meet by the canal on the opposite side to the station, next to The Railway pub.
1pm – 1.30pm – meet at The White House pub, Blackstone Edge, Halifax Road, Littleborough.
Evening performance: 7.30pm – Hebden Bridge Library, HX7 8EP (followed by open mic event).
LEG 2: Saturday 19 October: Hebden Bridge
8.30am – meet at the Nutclough Inn, Keighley Road (A6033), Hebden Bridge
12pm – 12.30pm – meet at The Dog and Gun pub, Denholme Road, Oxenhope.
Evening performance: 7.30pm – The Brown Cow, Bingley, BD16 2QX (followed by open mic event).
LEG 3: Sunday 20 October: Bingley
9am – meet outside Bingley Railway Station, BD16 2NA.
3.45pm – Poetry Post Box Walk: Meet the Poets Walking the Line - Meet on the grass outside Rombalds Hotel
Evening performance: 7.30pm – St. Margaret's Hall £5/3 (followed by open mic event at Ilkley Playhouse Wildman 8.30-10pm)