Vice-Chancellor at Buckingham Palace
Tue, 26 Feb 2013 17:17:00 GMT
Huddersfield VC invited to speak at Start-Up Loans scheme by HRH The Duke of York
‌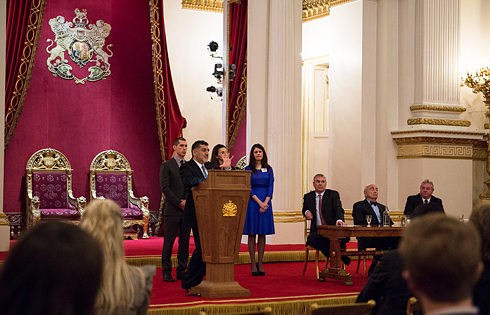 Pictured (left to right)- At Buckingham Palace entrepreneur James Caan talks at the podium while HRH The Duke of York, Lord Young and the University's Vice-Chancellor, Professor Bob Cryan sit alongside
The University's Vice-Chancellor, Professor Bob Cryan, spoke alongside The Duke of York, Lord Young and entrepreneur James Caan at Buckingham Palace this week to launch the Student Ambassador Programme promoting the national Start-Up Loans scheme.
The Start-Up Loans scheme seeks to provide business training and affordable loans – around £2,500 in size – to young people who have a viable business plan. The scheme is aimed at 18-30 year olds, who are living in England and looking for finance to start a business.
Entrepreneur and former Dragons' Den celebrity investor James Caan is the chairman of the body that has been established to oversee the allocation of the loans – http://www.startuploans.co.uk/.
The event was hosted by The Duke of York to launch the Student Ambassador Programme, a pilot initiative designed to promote Start-Up Loans amongst university communities.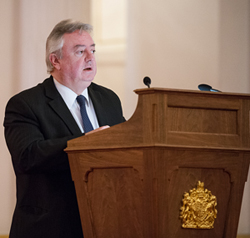 His Royal Highness invited Professor Cryan to speak at the event and highlighted the work of the Yorkshire universities, in particular the University of Huddersfield, as a good example of supporting student entrepreneurship.
Professor Cryan has been personally involved in establishing a number of initiatives to support and encourage graduate entrepreneurs.
The nominated Huddersfield Student Ambassador is business student Adam Thompson.
Adam, together with fellow student entrepreneur Jeff Postlethwaite, has been mentored by Professor Cryan in the creation of their business, Twists Pasta Bar. The pair opened their first outlet in January on New Street in the town. (Click here for the story)