VC wins Guardian top award
Thu, 28 Feb 2013 08:38:00 GMT
Huddersfield Vice-Chancellor Bob Cryan takes a third of votes to win the The Guardian's Inspiring Leader Award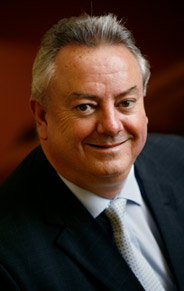 CONGRATULATIONS have flooded in to the University's Vice-Chancellor, Professor Bob Cryan (pictured), who last night won the prestigious award of Inspiring Leader at the inaugural Higher Education Awards launched by The Guardian newspaper.
Professor Cryan was one of a roster of eight leading figures from the sector nominated for the Inspiring Leader award.
The citation for his nomination read:
"Bob Cryan is a Huddersfield man to his core with a deep commitment both to his university and to his community. The dual evolution of the University of Huddersfield into an anchor institution in its community and a sector leader in business engagement has been recognised through the award of Entrepreneurial University of the Year 2012. Bob is a leader in every sense of the word. His financial stewardship is exemplary, taking the university out of debt whilst embarking on £100m of visionary developments without borrowing.
"He is well known to staff at all levels and fosters in them a strong commitment to the University's mission and to its business-engagement agenda, where students are kept at the heart of the institution, where the skills base of the local economy is fuelled by the University, and where the University is recognised as being a source of innovation and applied research. Under Bob's inspirational leadership Huddersfield has undergone a major transformation resulting in a tripling of postgraduate and international students and moving up a stunning 47 places in the Guardian University League Table."
Voting for the award of Inspiring Leader took place on-line and Professor Cryan was announced as the winner at a glittering ceremony held at Senate House in London. He was presented with the award by Dr Mark Pegg, Chief Executive of the Leadership Foundation for Higher Education.
The Huddersfield Vice-Chancellor was delighted to be the award's first-ever recipient: "I was both flattered and surprised to find that I had been nominated, so you can imagine how I felt when my name was announced as the winner," said Professor Cryan.
"We have worked immensely hard at the University, at all levels and across many fronts, to live up to our mission of being an inspiring, innovative university of international renown. I am extremely proud to be the Vice-Chancellor of the University of Huddersfield and genuinely excited for the future of this university. I would particularly like to thank our staff for their hard work and achievement and for sharing a joint vision for the future."