U.S. acclaim for Hudds artist
Tue, 13 Nov 2012 15:34:00 GMT
Jill's Toil wows Washington Post arts critic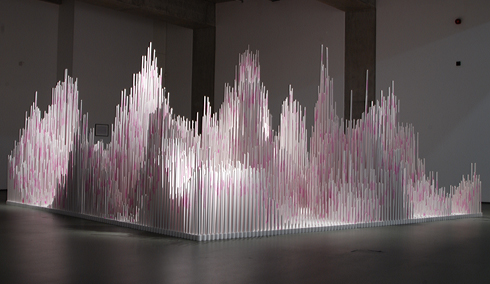 pictured above: 'Till Rolls' a sculptural installation on show in Washington DC, by Dr Jill Townsley
‌CRITICS in the U.S. were impressed by the ambitious artworks of the University of Huddersfield's Jill Townsley when she mounted a solo show in Washington DC. Now, the lecturer-artist is poised to reinstall some of the thought-provoking pictures, sculptures and installations at an exhibition scheduled for Huddersfield Art Gallery.
They will include a painstakingly assembled sculptural installation consisting of hundreds of paper till rolls, so that they resemble a strange cityscape; plus a large collection of stones gathered from the bed of a moorland stream above the artist's Marsden home and laboriously coated with nail varnish.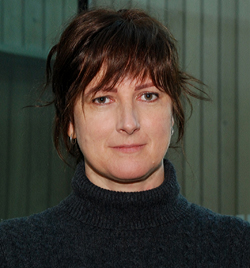 Dr Townsley (pictured) has also created pictures and accompanying video installations by obsessively scribbling on squares of blank paper, 500 times, until the surfaces are almost entirely inked in; and she has filmed herself writing every number from one to 840, wiping them all out in succession, in response to a highly-repetitive composition by the French musician Erik Satie. (as seen pictured below)
‌"All the work is about labour and process," explains Jill Townsley, who is senior lecturer and course leader in contemporary art and illustration at the University.
"My main area of research has been about looking into the role of repetition in art production; long, laborious practices that in singular may have very little real importance, but by the time they have been repeated something like 10,000 times they start to allude to something else."
Bald descriptions of her art might make it seem strange and bemusing. But it has a big impact when encountered in a gallery. After attracting the attention of American art experts, Jill Townsley was offered her first solo show in the USA. Named Toil it was mounted at the Project 4 Gallery in Washington DC and has recently concluded an extended run. The city's influential art critics responded positively.
Washington Post praise
‌The Washington Post's Michael O'Sullivan praised her "subversive sense of play" and found her pictures named Scribble Squares to be "unexpectedly beautiful, with richly-textured surfaces and surprising depth".
The critic did detect a "robotic quality" in the exhibition but added that "there is another, very different sensibility beneath the work's superficial drudgery. Toil may be largely about numbers and grids and counting but there's also a powerful sense of chance, accident and human fallibility".
Before being awarded the Project 4 show, Jill Townsley exhibited works at New York's prestigious Museum of Art and Design. And when she is showcased in Huddersfield, between 26 January and 13 April, she aims to recreate one of the installations featured in that show.
"It consists of 9,700 plastic spoons, three of which are held together with a rubber band to make a little tripod and then they tessellate an eight-foot high, three-sided pyramid," explains Dr Townsley. Eventually – dependent on the climatic conditions of the art gallery – the rubber snaps and the whole structure tumbles.
Cameras continually monitor the installation and record the final collapse of the pyramid. Every time it collapses it does so in a completely different way.
During the Huddersfield exhibition – named Sisyphus after the mythological character doomed by the Gods to push a boulder up a hill continuously – it is planned for Spoons to be installed in a room at one of the town's shopping centres and spy cameras streaming live to a website will enable people to observe the precarious structure.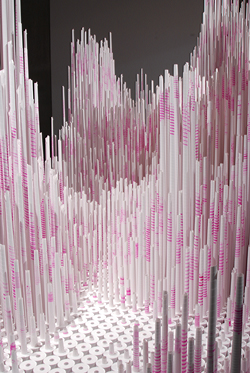 The scale and complexity of some of Jill Townsley's works means that she seeks volunteers to help install them. The public will have a chance to aid the recreation of Spoons and when Till Rolls (pictured left) is assembled at Huddersfield Art Gallery it is hoped that students will participate, gaining a special insight into the work and ideas of one of their lecturers making her mark on the transatlantic art scene.
The Huddersfield Art Gallery exhibition, opening on 26 January, is part of a series named Rotor, which showcases the work and research of University art lecturers.