Updating your email signature
Mon, 23 Sep 2013 09:21:00 BST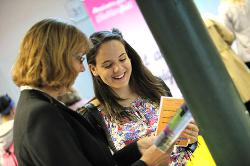 We held another successful Open Day on Saturday 21 September with 2,886 visitors on campus.
As we have two more Open Days taking place on 30 and 31 October (9.30am – 3.30pm), if you currently feature the September Open Day date in your e-mail signature, please update this by deleting the 21 September date and replacing it with these new dates/times.
We can't add this automatically to your e-mail account so please take a few minutes to follow the instructions which can be found here Corporate Email Signature (you will need to input your username and password to access the file) and refer to section 5. Please do so as soon as possible so everyone is aware of the next Open Days.
Thank you to everyone involved in making our Open Days so successful.