University Weather Watch - April
Thu, 03 May 2012 16:20:00 BST
It rained and it poured

APRIL 2012 was remarkable - the 13th wettest out of all the months since our records began in 1990. With only three days of the month escaping rainfall, April truly lived up to its reputation for showers, even though the previous few Aprils have been very warm and dry. Monthly temperatures were also well below average for the time of year. High wind speeds were also experienced during the month.
The average figures are those recorded since January 1990 by the Applied Sciences weather station.
The monthly mean temperature was 7.33˚C, almost two degrees lower than the average for April of 9.31˚C, making it the coolest April since our records began!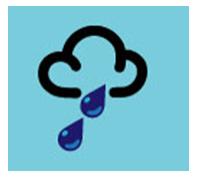 The warmest day of the month was Monday 30th, with an average temperature of 12.7˚C. The highest maximum temperature of 17.2˚C was also recorded on this day. The coldest day of the month was Wednesday 4th with an average temperature of 3.3˚C. The lowest minimum temperature was -0.6˚C recorded on Saturday 14th. The temperature fell below zero on two days of the month.
It was by far the wettest April since our records began and the wettest month since November 2009. More rainfall was recorded in April than the totals for January to March put together. A total of 147.4mm of rainfall was recorded compared to the average for April of 57.01mm. There were just three dry days and rainfall was recorded every day from Monday 16th until the end of the month!
The wettest day of the month was Thursday 26th with 25.8mm (17.5% of the month's total). There were however, three other days in the month which recorded significant rainfall - Wednesday 18th – 17mm, Wednesday 25th – 21mm, Sunday 29th – 15.6mm.
This is in stark comparison to April 2011, when just 5.2mm of rainfall was recorded. A substantial amount of snow fell on Wednesday 4th, causing travel problems around many areas of Huddersfield and outlying districts.
Wind speeds for the month were also significantly higher than those recorded by our weather station since our newest weather station was installed in 2005. The mean wind speed for the month was 14.22km/hr compared to the average of 10.97km/hr (recorded since 2005). The highest mean wind speed was 41.04km/hr recorded on Saturday 28th, the highest recorded since December 2011. The highest gust of wind for the whole month was 115.2km/hr recorded on Wednesday 4th, it was the highest gust of wind recorded since 26th Nov 2011.
The prevailing wind direction for the month was east.
The monthly University of Huddersfield Weather Watch is compiled and written from data gathered at the University's weather station by Julie Walker, Resource Centre and Environmental Technician, in the School of Applied Sciences.