University hits new heights in rankings
Fri, 28 Sep 2012 11:21:00 BST
For teaching and employability, "Sunday Times" confirms Huddersfield as one of the very best
THE University of Huddersfield - which levies one of the country's lowest student fees – has been confirmed as one of the UK's best for teaching excellence and making sure that graduates get good jobs.
Just issued is the authoritative "Sunday Times University Guide", which shows that Huddersfield is one of the biggest climbers in the UK-wide rankings – now at 54th place, up from 60 last year. This means that the University is consolidating and improving its position well inside the upper half of the nation's Higher Education institutions.
For teaching excellence, its score of 81.3 is joint best in the North and tenth in the whole of England, Scotland, Wales and Northern Ireland, up from 11th last year.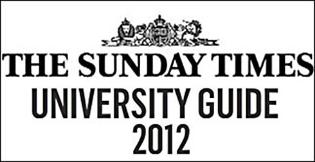 The "Sunday Times" figures show that the unemployment rate among recent Huddersfield graduates stands at 6.2 per cent. This is the joint best in the region – shared with the University of Newcastle - and 13th in the UK.
Also, it is shown that 76.5 per cent of former University of Huddersfield students land well-paid jobs deemed to be graduate-level. This is one of the highest success rates in the region and 37th in the entire country. It is ahead of many universities normally categorised as "elite".
Stephen Boyd, who heads the University of Huddersfield Careers and Employability Service, welcomed the "Sunday Times" findings on levels of employment and graduate-level jobs.
"We have always focused strongly on employability. This is reflected in our courses and our commitment that all students will have a work-based placement," he said.
"In addition, every student about to start with us now has the option of undergoing an individual Career Health Check, offered by our award winning Careers Service. From this point every student is supported continuously throughout their time here to ensure they are able to make the most of future opportunities".
The "Sunday Times" rankings have been welcomed by senior figures at the University of Huddersfield and they follow the results of the Government-backed National Student Survey, which established Huddersfield as one of the UK's top ten institutions for student satisfaction and that once again it was the very best in the country for prompt and helpful feedback on academic work.
Professor Tim Thornton, who is Pro-Vice Chancellor for Teaching and Learning, said: "This is further confirmation of the excellence of teaching and learning at Huddersfield, confirming the very good National Student Survey scores and testimony to the hard work and commitment of students and colleagues in creating an inspiring experience".
Alastair McCall, editor of "The Sunday Times University Guide", said: "Our league table rewards those universities which have placed great focus on providing top quality teaching, with prompt and useful feedback on students' work and assessment".