University celebrates World Mental Health Day on 10th October
Fri, 04 Oct 2013 15:58:00 BST
Everyone welcome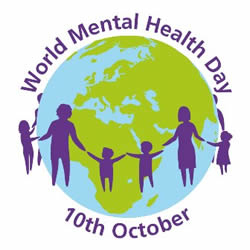 The University is holding a themed 'tea and a chat' event in conjunction with the 'Wellbeing Service' to help celebrate World Mental Health Day on the 10th October.
According to the Mental Health Foundation every year one in four people will experience some kind of mental health problem and mixed anxiety and depression is the most common mental disorder in Britain.
In addition to giving out tea and cake, various people from the University's mental health team, will be on hand to talk with anyone worried about mental health and other issues.
A series of films are to be shown during the week and students are encouraged to attend these to gain an insight into mental health.
A quiz developed by the team means there will be lots of prizes from local retailers to be given away and students from the School of Human and Health Sciences will be helping out too by making cakes etc... to support the day.
Everyone is welcome to attend the event held between 11.30 – 14.30 which has been organised by Linda Coldwell from the 'Wellbeing Service'.