Uni to lead the nurse education simulation project
Mon, 23 Sep 2013 09:41:00 BST
International collaboration to bring real-world practice to nurse training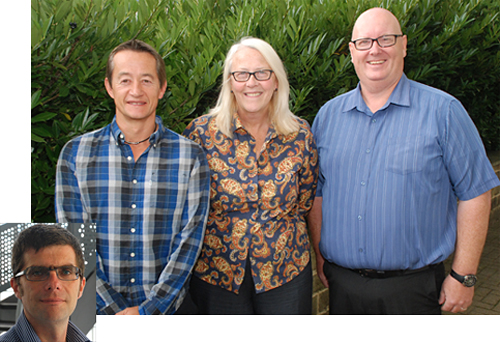 Pictured: [inset] Stephen Prescott, [l-r] Andrew Bland, Professor Annie Topping and Andrew Sutton
‌WORLD-class expertise in the use of advanced simulation technology – which enables trainee nurses to develop life-saving skills by practising on fully-programmable electronic 'patients' – has earned the University of Huddersfield a place at the heart of a multi-national educational research project.
The ultimate aim is to ensure that nurse educators in Europe and the rest of the world make the best use of the extraordinary technology that is now available.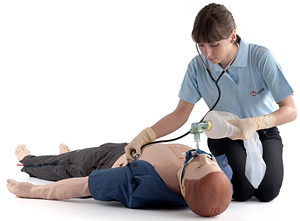 This ranges from the relative simplicity of hand 'washing' in ultra violet light, to develop the highest possible standards of hygiene, to advanced computerised manikins, which can bleed, breathe, sweat and even talk. They can be programmed to respond almost exactly as a human patient would to a range of conditions and complications, such as respiratory difficulties or post-operative internal bleeding.
‌Trainee nurses, and other health professions, must learn to analyse medical problems and intervene appropriately. It means that before they begin to practise in real-life hospital wards, student nurses are better equipped with knowledge and practical experience to make a contribution to quality care giving.
"Today's patients want nurses who can make sense of the complexity of real-world practice. The use of simulation means we can provide opportunities to become more practised at delivering effective care with compassion," says Professor Annie Topping, a registered nurse herself who is now Director of the University of Huddersfield's Centre for Health and Social Care Research.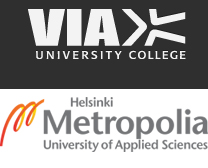 She and her colleagues Andrew Bland, Andrew Sutton and Stephen Prescott – who are senior lecturers in adult nursing – are taking part in the two-year, 250,000 Euro transfer of innovation research project named NESTLED (Nurse Educator Simulated Learning), funded by the EU. They will be partnered by Denmark's VIA University College and Helsinki Metropolia University in Finland.
The goal is to develop the skills of those delivering curricula to make the best use of simulation techniques and "cascade" that learning across Europe. "And evaluation will help us to cascade best practice globally", said Professor Topping.
Fully-equipped virtual wards
In these videos Andrew Bland and Andrew Sutton undertake demonstrations with the latest technology at the University.
Simulation has been a key part of nurse education at the University of Huddersfield for more than a decade and the School of Human and Health Sciences now has several fully-equipped virtual wards and other healthcare settings which use the latest technology, including the state-of-the-art SimMan® 3G manikin, supplied by the firm Laerdal Medical, with which the University has established a close working relationship and an industry partner on the project.

Trainee nurses and their teachers at Huddersfield have fully embraced simulation and its potential, but this is not invariably the case elsewhere, according to lecturer Andrew Bland. Adopting the technology and simulation strategies can be a daunting prospect for some educators, he says, and there have been cases where complex, costly equipment is acquired but left unused.
The aim is that the NESTLED project will help ensure that standards of nurse education incorporating simulation techniques are uniformly high. A teaching module will be developed and then trialled in Denmark, Finland, Estonia and the UK before being disseminated more widely.
The origins of the collaboration can be traced to a conference on simulated learning held at the University of Huddersfield two years ago. Experts, who eventually became partners in NESTLED, held discussions and decided to collaborate on research. After a launch meeting in Denmark, there is to be a workshop at Huddersfield in December 'training the trainers', which, along with the evaluation, is the University's principal contribution to the project.