Two lecturers make finals of INDEX: Design to Improve Life

Wed, 10 Jul 2013 12:03:00 BST
Dr Pammi Sinha and Dr David Swann join list of 60 international finalists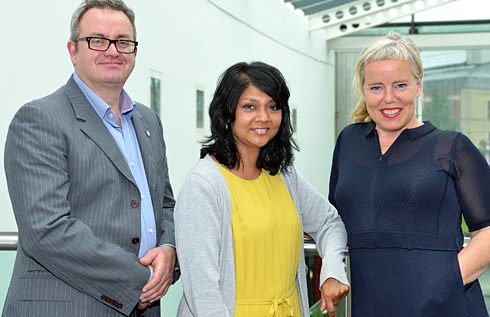 University lecturers Dr David Swann and Dr Pammi Sinha (centre) are pictured with INDEX: Design To Improve Life's CEO Kigge Hvid.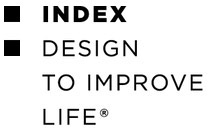 AFTER receiving over 1,000 nominations from 73 countries, judges for one of the world's most prestigious design competitions have announced a list of 60 finalists and it includes two projects devised by University of Huddersfield researchers who aim to bring about big improvements in the health and economies of developing countries.
The organisation INDEX: Design to Improve Life – based in Denmark and backed by its royal family – holds a design contest every two years. The best entries are included in an exhibition that travels the world. In 2012, it made its first and only UK visit when it came to the campus of the University of Huddersfield. One of the designs on display was an innovative health visitors' bag created by lecturer Dr David Swann, who had been a finalist in the 2011 contest.
He has now been announced as a finalist in the 2013 edition of the INDEX awards. Dr Swann is joined on the shortlist by Dr Pammi Sinha, who is Reader in Fashion Management at the University.
Dr Swann's latest project, entitled ABCs: A Behaviour Changing Syringe, is entered into the Body category of the INDEX awards and is a syringe which has ingenious features that aim to deter non-sterile reuse in India. Dr Sinha and her team have entered the Community category with a project named Recycle Sub Sahara. It aims to link developed and developing economies with a new system for recycling used textiles.
‌ABCs: A Behaviour Changing Syringe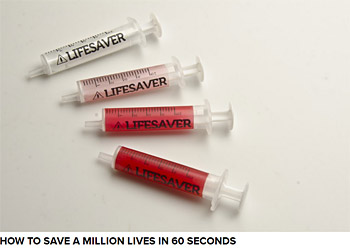 The syringe designed by Dr Swann (pictured) is designed to tackle a massive global healthcare problem. The World Health Organisation (WHO) estimates that up to 40% of the 40 billion injections administered each year are delivered with syringes reused without sterilisation. This is responsible for large proportions of new cases of HIV and hepatitis. WHO has stated that changing the behaviour of healthcare workers and patients is the key to achieving safer injection practices.

Dr Swann's solution is a plastic syringe that is colourless while it remains in its nitrogen-filled pack. But exposure to air activates an ink applied to the barrel. After a 60 second treatment window, this ink, having absorbed CO², produces a rapid and irreversible colour change in the syringe so that it turns to red. This deters reuse by making the syringe difficult to operate and the discolouration is a visual warning for future patients. Also, the syringe's design means that new pistons cannot be fitted.
Dr Swann has patented the technology and he has estimated that if the product gained a five per cent share of the Indian syringe market, after five years it will have prevented 701,750 fatal infections and saved $130 million in medical costs.
Recycle Sub Sahara
Dr Pammi Sinha's INDEX-nominated project promises environmental and economic gains by seeking a solution to the global problem of textile waste, once clothes have reached the end of their life. The Recycle Sub Sahara process focuses on Tanzania, where there is no system of collecting waste textiles, so that when clothes are no longer wanted, most are destined for landfill.

The system designed by Dr Sinha (pictured) links the textiles industries of developed economies, such as the UK, with developing economies, such as that of Tanzania. This would raise potential for overseas and inward investment, contributing to economic development because of new opportunities for textile recycling and reprocessing industries to be developed. Also, there would be environmental benefits, stemming from reduced use less of raw materials, water, dyes and other chemicals required for new textiles to be made.
Dr Sinha has worked on her system with a number of University of Huddersfield colleagues, and also with Iain Taylor, who is Design Director at Sage Automotive Interiors, based in Bury. His remit is to design and develop green textiles solutions for car interiors. It has been normal to use either all-new textiles or post-industrial textile waste for this purpose, but the Recycle Sub Sahara project has investigated the use of recycled post-consumer textiles, such as those discarded at the landfills near the Tanzanian city of Dar es Salaam.
Dr Sinha's University of Huddersfield colleagues in the Recycle Sub Sahara project are the textile researchers and lecturers Dr Katie Beverley, Dr Dimitra Domvoglou, Ms Rita Schulz and Ms Claire Day, plus chemistry lecturer Dr Peter Laity and logistics expert Dr Nicoleta Tipi.