Training tomorrow's rhythm section
Tue, 22 Jan 2013 12:20:00 GMT
Principal drumkit tutor puts his practice into print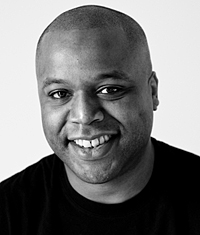 THEY could just be the grooviest textbooks ever written by a lecturer and published by his university.
Paul Francis (pictured) is an experienced professional musician who is principal drumkit tutor at the University of Huddersfield, and also directs specially-formed student ensembles which explore rock, jazz and other styles. Now he is the author of two new books – Drums and bass: for tomorrow's rhythm section and Grooves for guitar.
Both published by the University of Huddersfield Press, they aim to ensure that new generations of musicians will be able to provide the rhythmic powerhouse for rock bands and pop groups.
"The books (seen below) are primarily aimed at the post-Grade 8 student," says Leeds-born Paul. "They might be looking to go to university and they need this type of material because invariably there will be a recital element to the course. The books provide them with performance repertoire – they include sheet music, digital recordings on CDs and there is also material available to download from my website."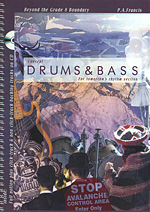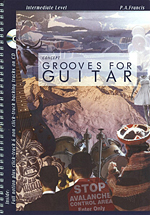 ‌All of the material – covering a wide variety of styles – has been composed by Paul, a drummer who loves to play piano too. The accompanying CDs include tracks in which the drum, bass or guitar is absent so that students can contribute their own lines.
‌‌Paul is delighted by early response to the books and is planning new volumes, including one with material for singers.
"What is happening now is that rock and pop music is increasingly being viewed as a credible form of music study, which does need some analytical overview. It is a form of music which can be studied and analysed and can be improved upon as a result of that study," he argues. ‌
Paul started drumming in his early teens and quickly showed talent. After taking a jazz degree course at Leeds College of Music he embarked on a career that has seen him work with big names on stage and in the studio (click here for his official website).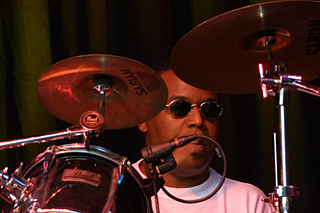 He also enjoys working with up-and-coming talent and with students.
"Teaching has always been parallel to my performing career and I think both aspects inform each other," says Paul (pictured right playing the drums). Currently, funk and reggae are among the styles he is working on with student groups and he finds that young musicians are still interested in the classic genres of rock and pop.
His own tastes are very wide-ranging, but there is a bottom line: "I am only uncomfortable with anything that doesn't have a melody!" says Paul.
Find out more about Paul Francis's new books and how to order them online here: Drums and bass: for tomorrow's rhythm section and Grooves for guitar