Top Man
Wed, 04 Jul 2012 09:41:00 BST
Jim becomes Regional Dean for the Society of Chiropodists and Podiatrists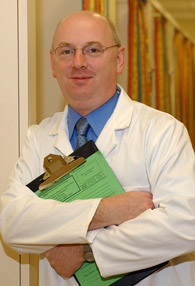 A UNIVERSITY of Huddersfield lecturer will play a key role in the future of podiatry training in the North of England and Scotland.
Jim Pickard (pictured) is the new Regional Dean of the Faculty of Surgery that is run by the Society of Chiropodists and Podiatrists. The mission of the faculty is to promote, develop and govern podiatric surgery training and practice and Mr Pickard now heads its North Region.
Although the new appointment is a separate role to Mr Pickard's work at the University, there will be some close links. For example, Huddersfield is one of three UK universities that runs an MSc course in podiatric surgery, and the degree is validated by the Society of Chiropodists and Podiatrists.
Also, the University has frequently played host for podiatry training seminars and conferences run under the aegis of the Society.
Mr Pickard has taught at Huddersfield since 1990, has served as Head of Podiatry and since 2009 he also been consultant podiatrist post for the Mid-Yorkshire Hospitals Trust, based in Pontefract.
He has been a member of the Society of Chiropodists and Podiatrists for 30 years and has served on its medicines committee and its general council. He welcomes the fact that his appointment as Regional Dean enables him to make a further contribution to the profession.
"If you are not prepared to support your profession, you cannot expect your profession to support you."