Time to Intervene? Report under scrutiny
Mon, 22 Oct 2012 16:15:00 BST
UK Resuscitation Council Chair speaks at Huddersfield conference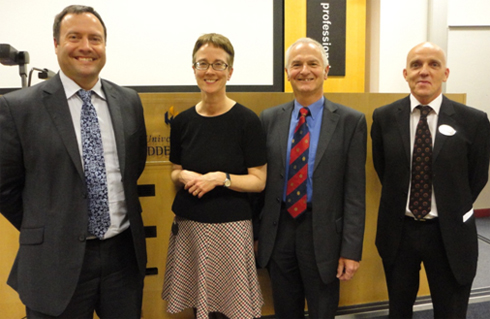 From left to right: Dr Andrew Lockey, Dr Mary Kiely Dr David Pitcher, Mr Graham Ormrod
On 10th October the School of Human and Health Sciences welcomed leading medic Dr David Pitcher to the University.
Dr Pitcher is Chair of the UK Resuscitation Council and spoke of the implications of the national report 'Time to Intervene?' which looked into the management of patients who have a cardiorespiratory arrest in NHS hospitals.
Also speaking at the event were Dr Andrew Lockey, Head of Medical Education at Calderdale and Huddersfield Hospital Foundation Trust, and Dr Mary Keily, a Consultant in Palliative Medicine at the same trust. The speakers shared their thoughts on the significant implications of the report which indicates that care can be judged "less than good" in 7 out of 10 cases of patients who suffer an arrest in hospital.
Head of Division of Acute Care Graham Ormrod hosted the event and was delighted with the audience of 94 delegates. These included Medical and Nursing Consultants, GPs, and clinical and academic colleagues from across Yorkshire and the North West. Graham believes this event demonstrates the great potential for the university to build on its existing collaborations with local and regional health care providers.
Dr Lockey shared this view by saying, "the University can provide an essential forum to explore implications for practice, promote discussion and ultimately make a tangible impact on patient outcomesˮ.