The media and me
Tue, 13 Dec 2011 08:57:00 GMT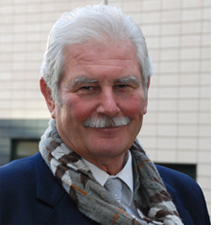 FROM a background of poverty and hardship, Keith Hellawell rose to the top in policework, politics and business. His advice was sought by Tony Blair, he sat in on Cabinet meetings and he did charitable work alongside Prince Diana. He became Britain's highest profile policeman, leading to a controversial role as the country's first 'Drugs Czar'.
All of this was inevitably accompanied by intense media pressure, not to mention countless self-penned articles, hundreds of broadcasts ... and an invitation to take over as the presenter of TV's top current affairs show.
As a man who has witnessed the media in action from both sides of the divide, Keith Hellawell was an ideal candidate to talk to the journalists of the future, who are studying media and broadcasting at his home-town University of Huddersfield. It is hoped that he will hold further sessions with students, providing them with insights into worlds of policing and politics and the people who report on them.
His wide-ranging talk drew on many phases of his long and varied career and the lessons it offers both to journalists and the people they write and broadcast about. The word he stressed was "trust". People in the public eye, such as police officers and politicians, needed to be able to trust the reporters they dealt with – and vice versa.
He told the students about the Yorkshire Ripper investigation in the late 1970s and early 1980s. Keith Hellawell was serving as a detective with a West Yorkshire Police force that came under global scrutiny for its failure to catch Peter Sutcliffe.
"We were under siege from the world's media. There would be 160 reporters at our weekly press conferences. It was the number one story in the world".
When it turned out that Peter Sutcliffe had figured in the investigation but had been left free to kill again, West Yorkshire Police were savaged by the media. So Detective Chief Superintendent Keith Hellawell – who later became the county's Chief Constable – was given the job of rebuilding the force's shattered reputation.
"I was styled the 'image man', trying to create an environment in which West Yorkshire Police were seen in a more positive mode."
It led to his own media profile being raised and eventually he became widely-regarded as Britain's most outspoken police officer. Ultimately, Keith Hellawell became a prolific contributor to the press, TV and radio himself. He owns up to writing 3,000 articles and at one point he was giving some 70 radio interviews a week. His principal advice to reporters is that they should do their research, so that they understand the background to a subject before embarking on an interview.
BBC Radio 4's 'Today' programme was the model for this, he said, and during his stint as Drugs Czar he was frequently featured in the 7.30-8am slot that is coveted by the nation's top politicians. This created resentment, and when he resigned from a post that sat uneasily with the constitution, there were many in Parliament and the Civil Service who were happy to see him go.
His burgeoning media expertise and raised profile led to one of Keith Hellawell's most unusual job offers – to take over as the frontman of current affairs television programme 'Panorama'. He turned it down – even at £10,000 a time – because he was not prepared to hold forth on subjects in which he had no expertise. By the same token he refused all offers to participate in celebrity culture by appearing in shows such as 'Through the Keyhole'.
And during his talk to University of Huddersfield media students, Keith Hellawell – now aged 69 – was able to pass on a piece of advice that came straight from the mouth of the man regarded as the most media savvy political figure of his generation.
"Never ever lie to the media," was one of the mantras of Alistair Campbell, who was PM Tony Blair's Director of Communications.
"Alistair also told me, 'Don't always be right – the British public don't like a smart alec!'"