The Luddites go online
Thu, 03 Nov 2011 09:44:00 GMT

Home page of the new website
WEST Yorkshire is gearing up to mark the bi-centenary of the Luddite uprising – one of the most violent, dramatic and thought-provoking episodes of English history. And the University of Huddersfield, based in the area that was the epicentre of Luddism, has played a key role in preparing the ground for commemorations.
Newly online is The Luddite Link, a website that has a wealth of information about the events of 1812 and which will be constantly updated with news of performances, exhibitions and sources of information about Luddism.
The University contributed £3,000 from its Collaborative Ventures Fund and the new website was developed by a team headed by Dr Janette Martin (pictured), of the history department. Marsden-based web designer Bob Lockwood designed the site, which is launched in partnership with Kirklees Museums & Galleries plus the Mikron Theatre Company and Huddersfield's Lawrence Batley Theatre, both of which will be developing projects and mounting plays about the Luddite saga.
Earlier this year, the LBT won the sum of £55,197 from the People's Jubilee Millions, after a televised vote in the annual grants programme run by the Big Lottery Fund, in partnership with ITV. The cash will be used for a project named "Cloth, Culture and Communities".
Marsden-based Mikron – which travels between venues by canal boat – is developing a Luddite drama called "Can You Keep A Secret?" which will be premiered in the bi-centenary year.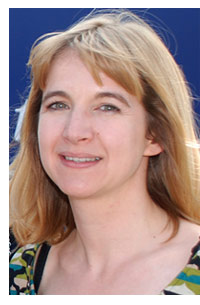 Dr Martin said: "The Luddite Link is a great opportunity for the University to work with local community groups, theatres and museums to commemorate this fascinating episode in Huddersfield's past. Together we are creating a diverse range of events, resources and activities to make sure that Yorkshire Luddism is properly commemorated.
"The Luddite bi-centenary also gives history students at the University of Huddersfield a unique opportunity to engage with local history. Second-year undergraduates taking our 'Hands on History' module will be honing their research and IT skills by providing additional content for the Luddite Link website. Meanwhile, some third-year students will be helping to create a travelling Luddite exhibition and a guided walk leaflet for Kirklees Museums Education team and Huddersfield Local History Society."
Partners in The Luddite Link also include the Colne Valley Museum, the Tolson Museum, Huddersfield Local History Society, Marsden History Group, Huddersfield Local Studies Library, plus some key libraries and archives that have invaluable material about the Luddites.
The new website also has an outline history of Luddism in the West Riding, plus in-depth articles and suggestions for further reading and listening. Visit http://www.ludditelink.org.uk/ or email luddites@hud.ac.uk.
Machine-breaking had been a form of protest in England for more than 100 years, but 1812 saw one of the most serious outbreaks in the West Riding of Yorkshire, when skilled tradesmen known as cropper – who manipulated huge shears to smooth the surface of woollen cloth (see picture below) – faced the loss of their livelihoods when new machines were invented. Bands of them set out to smash the machines and make violent raids on mills. Their activities were punishable by death, so they swore oaths of secrecy and adopted the figure of General Ludd as their semi-mythical leader.
After a mill owner was ambushed and murdered at Crosland Moor near Huddersfield, the authorities stepped up their investigations and huge numbers of troops flooded the area. Many arrests were made and at York Gaol in January 1813 a string of executions brought the episode to an end – although the troubling saga and the issues it threw up as Britain embarked on industrialisation meant that the word "Luddite" has never left the language.