The Down Under dimension
Mon, 19 Mar 2012 16:26:00 GMT
University criminology experts link up with Australian colleagues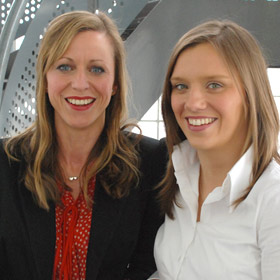 Dr Rachel Armitage and Leanne Monchuk
A DISTANCE of more than 10,000 miles is no barrier to close collaboration between criminology research teams in Huddersfield, UK, and Sydney, Australia. Technology means that university experts in both centres can deliver lectures and take part in seminars on the other side of the world.
For example, Leanne Monchuk – a researcher with the Applied Criminology Centre (ACC) at the University of Huddersfield – is scheduled to take part soon in a live, interactive teaching session with a group of some 20 MA students at Sydney University's Institute of Criminology.
The subject will be 'Designing Out Crime', in which the University of Huddersfield's ACC has become a global authority. Oldham-born Leanne's ongoing PhD research deals with Greater Manchester Police's approach to this technique, which aims to reduce burglary and vandalism plus other forms of disorder by designing buildings, streets and estates so that opportunities for crime are severely restricted.
Leanne's supervisor is Dr Rachel Armitage, and the two have presented papers on aspects of Designing Out Crime at several conferences in the UK and overseas. The latest was in January 2012 when the University of Huddersfield colleagues travelled to Sydney University and its Institute of Criminology.
It was a packed visit that helped to strengthen ties between the criminology research teams in Sydney and Huddersfield. One of the results is Leanne Monchuk's real-time video-linked session. In front of a camera and TV screen at the University of Huddersfield she will deliver a paper to the Australian students and they will have more than an hour to ask questions and discuss her research.
There are plans to follow this with a video session in which an expert from Sydney University discusses the topic of restorative justice with University of Huddersfield criminology students.
Garner Clancey, who lectures at the Sydney Institute of Criminology, said that he had been delighted to welcome Rachel and Leanne.
"Their work on crime prevention through environmental design is of interest to many people in Australia and is particularly relevant to some research being undertaken at the Institute."
He added that: "The ongoing possibilities for collaboration are very exciting. We look forward to trialling video conferencing guest lectures and to exploring joint research opportunities."
Dr Armitage commented: "This Australian link is a very exciting development that will allow us to share expertise, work on collaborative research projects and transfer ideas relating to good practice within Designing Out Crime. We are hoping that researchers from the Sydney Institute of Criminology can visit Huddersfield in 2012 and deliver guest lectures, visit with UK police forces and learn from this country's experience of planning for crime prevention."
During their visit to Australia, Rachel Armitage and Leanne Monchuk also visited Melbourne and they held talks with a number of leading Australian planning professionals to discuss Designing Out Crime and how it is implemented in New South Wales and Melbourne. This research will contribute to a book which Rachel is currently writing and is due for publication in 2013.
Back in the UK, their schedule includes a presentation to a meeting of the Association of Chief Police Officers, dealing with burglary prevention.