The chill factor that stole a March
Tue, 23 Apr 2013 13:03:00 BST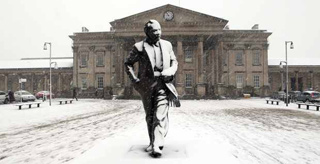 ‌In stark contrast to March last year March 2013 was one of the coldest since records began. The Met office has stated that 'temperatures for March were well below average everywhere.
The provisional UK mean temperature was 2.2 °C, which is 3.3 °C below the 1981-2010 average. It was the coldest March since 1962, and the equal second-coldest in the series from 1910. March was the coldest month of the 'extended winter', the first time this has happened since 1975, and the coldest calendar month since December 2010'. In Huddersfield temperatures recorded for the month were much lower than average resulting in one of the coldest March's on record.
Heavy snow with severe drifting hit the whole of the Kirklees region on Friday 22nd and Saturday 23rd which resulted in many areas being cut off, due to very low temperatures the snow stayed around until the end of the month. The average figures are those recorded since January 1990 by Applied Sciences weather station.
The monthly mean temperature was just 2.38˚C over 4.63˚C lower than the average figure of 7.01˚C making it by far the coldest March since our records began and the coldest month since December 2010 when a monthly average figure of 0.77˚C was recorded.
The warmest day of the month was Monday 3rd with an average temperature of just 5.9˚C (average 12.18˚C) making it the coldest warmest day for March since our records began. The highest maximum temperature was 10.3˚C recorded on Saturday 2nd. The coldest day of the month was Monday 11th with an average temperature of -1.6˚C (average 2.13˚C) making it the second coldest March day recorded.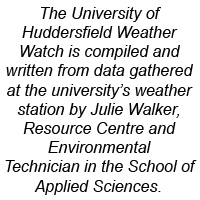 The lowest‌ minimum temperature of -4˚C was recorded on Saturday 30th, the third lowest temperature recorded for March since our records began (coldest -6.4˚C recorded in March 2001). The temperature fell below zero on 18 days of the month.
Precipitation figures for the month may have been slightly distorted due to snow and snow melt. The Met office have stated however that The UK overall had 65% of average rainfall and our recorded figures are in line with these figures. A total of 47mm of precipitation was recorded during the month compared to the average figure for March of 58.21mm; it was the wettest March since 2010.
The wettest day of the month was Friday 15th with 7mm (15% of the month's total rainfall). Twelve days of the month escaped rain the driest spell falling between Friday 1st and Tuesday 5th.
The mean wind speed for the month was 14.26km/hr. The highest mean wind speed was 36.72km/hr. recorded on Sunday 10th. The highest gust of wind was 106.56km/hr. again recorded on Sunday 10th.