Taking the initiative
Tue, 17 Apr 2012 08:50:00 BST
Midwife course demonstrates its commitment to offer best help and advice on breastfeeding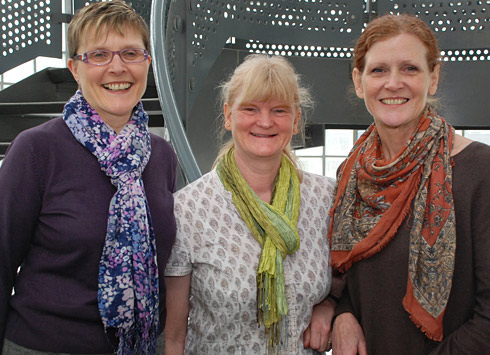 Taking the lead on midwife education at the University of Huddersfield - (l-r) Dr Mari Phillips, Dr Joyce Marshall and Jayne Samples
THE University of Huddersfield has demonstrated its determination to ensure that the midwives it trains can offer mothers the very best help and advice on breastfeeding their babies.
The midwifery course at the University has received a Certificate of Commitment from the Baby Friendly Initiative, a major global programme run by the World Health Organisation and UNICEF.
One of the initiative's main goals is the encouragement of breastfeeding. An important element in this is a programme to ensure minimum standards for courses within university departments responsible for education of health professionals. This is to ensure that newly qualified midwives and health visitors are equipped with the basic knowledge and skills they need to support breastfeeding women effectively.
The University of Huddersfield has embarked on the Baby Friendly Initiative's standards programme. Now that the Certificate of Commitment has been received, the midwifery course will pass through two further stages, culminating in a visit to the University by Baby Friendly assessors who will interview the lead lecturer and a random sample of students.
When this is successfully completed, the course receives full Baby Friendly accreditation.
Dr Joyce Marshall is Senior Lecturer in Midwifery in the University of Huddersfield's Division of Maternal and Child Health, where 131 students are currently studying to be midwives. She is delighted to have received the Certificate of Commitment and is looking forward to completing the stages that will lead to accreditation.
Midwifery students are taught about infant feeding throughout the three years of their BSc course, she said, and the topic is receiving new emphasis, with practical training and extra information added to skills handbooks.
"The Baby Friendly Initiative gives us recognition for the good work we are already doing at Huddersfield, but it will also enable us to take a systematic look at ways in which we might improve the education that we provide," said Dr Marshall.
"We know that despite the health benefits of breastfeeding, many women give up before they want to. We must ensure that they get adequate support to continue to breastfeed when they wish to do so."