Subtitles and subtlety
Tue, 29 May 2012 09:07:00 BST
Dr Dan McIntyre wins British Academy grant to research the effectiveness of TV and film subtitles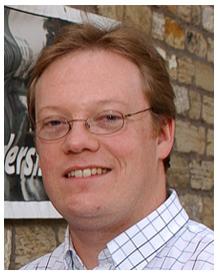 SUBTITLES which leave out subtle but significant elements of dialogue mean that viewers who are hard-of-hearing or who are fans of foreign language TV such as 'The Killing' could be missing out on important character traits, according to a University of Huddersfield linguistics expert.
Now Dr Dan McIntyre (pictured right) has been awarded funding from a major research council which means he can continue to investigate subtitling for hearing-impaired viewers. He hopes that his project will bring about changes in the approach adopted by the film and TV industries.
Dr McIntyre, who is Reader in English Language and Linguistics, explains: "When you watch a TV drama with subtitles, you often find a discrepancy between the original dialogue and what is represented in the subtitles.
"We know from research in stylistics that a particular character triggers in dialogue allow you to form an impression of a character, and those character triggers are often missing from the subtitles. You are getting a somewhat impoverished viewing experience if you are relying on those subtitles. So we are looking at the impact which that difference really does have on how you view the drama."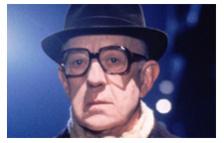 Working with research fellow Dr Brian Walker, Dr McIntyre has already completed a six-month investigation into subtitling, backed to the tune of £22,000 from the University of Huddersfield's own research funds. Now he has been awarded £7,186 by the British Academy for a further three months' work on the subject.
Sometimes, argues Dr McIntyre, tiny omissions by subtitlers – who face severe limitations of space – can lead to nuances of characters and scenes being lost.
"For example, we looked recently at the 1970s TV spy drama 'Tinker, Tailor, Soldier, Spy' (pictured left). In one particular scene, one of the characters frequently uses 'tag questions', where you make a statement and add a question at the end, such as 'You believe me... don't you?' But in that conversation all the tag questions are missed out in the subtitles so you lose the sense of this character being very persistent in that particular line of argument," said Dr McIntyre.
The British Academy grant now enables the University of Huddersfield to examine acclaimed U.S. crime drama 'The Wire'.
"This introduces another level of complexity, because the interesting thing in 'The Wire' is that the original dialogue is often unclear and difficult to understand, and that is part of the effect of the drama, maybe the point of it. So when you get subtitles clarifying the dialogue, you are losing that aspect of the original drama!" said Dr McIntyre.
One of his goals is to move from subtitled English language drama to foreign-language TV and film.
"The reason we didn't start with foreign-language subtitling is that an extra language adds an extra variable to the study. We can test the method by comparing English dialogue with English subtitles and if that works then we can move on and look at foreign languages," said Dr McIntyre. He is particularly keen to examine TV and movies in Italian and Hungarian, teaming up with colleagues fluent in those languages. Further grant applications are underway.
"Ultimately we are hoping to be able to improve the experience of viewing subtitled drama. This means making some recommendations to professional subtitlers that would make it easier for them to subtitle dramas, to help them understand the effect of particular linguistic choices – what happens when you take certain things out and what happens when you leave certain things in," said Dr McIntyre.
"Subtitlers do a difficult job and if we can help them balance characterisation with the technical limitations of subtitling technology then we should really be able to move things forward."