Strategy Club comes to Huddersfield
Mon, 13 Feb 2012 11:54:00 GMT
Inaugural Strategic Planning Society Strategy Club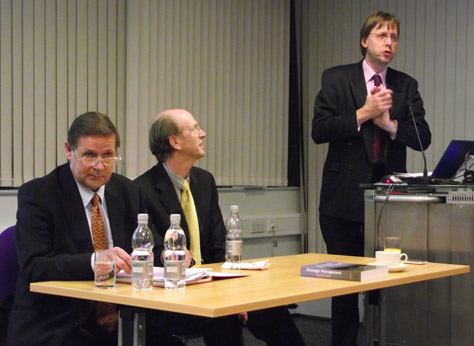 Opening the event is the University's Dr John Anchor (right) with speakers Richard Stephenson (left) and Kim Warren
An audience of students and faculty members attended the first Strategic Planning Society (SPS) Strategy Club event at the University of Huddersfield Business School.
Dr John Anchor, Head of the Department of Strategy and Marketing, introduced Kim Warren, Teaching Fellow at London Business School and creator of the Strategy Dynamics Approach, and Richard Stephenson, a highly-experienced strategy practitioner. Together they presented a talk entitled 'Where was strategy in the crisis?'.
The talk explored the broken relationship between strategy and finance and the urgent need to fix this. They also focused on the interdependency between business functions, the need to break down non-reciprocally operating information silos and the importance of joined-up thinking.
The University of Huddersfield Business School has been a keen supporter of the SPS Strategy Clubs initiative from the start and more events will follow in 2012. Future events will also be open to SPS members and local business people.
Speaking about the event and the SPS Strategy Club initiative, Dr Anchor said: "I was delighted to be able to host one of the first meetings of SPS's Strategy Clubs. This is an important development in the creation of a strategy 'profession'. Students particularly valued the real world scenarios which were demonstrated at the first club meeting. Both they and academic colleagues are eagerly awaiting the next meeting of the Club."