Staff Football
Thu, 10 Oct 2013 12:46:00 BST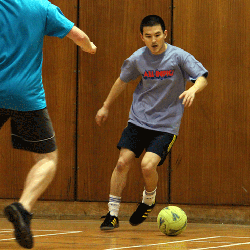 Enjoy playing football?
The University staff team get together every Friday between 5.00pm and 7.00pm in the University Sports Hall (indoors).
If you would like to join in and take part then feel free to come along. There's no need to worry about your ability – this is just for fun!
£2.00 fee per person every week.
Interested? E-mail Stephen Makin on s.k.makin@hud.ac.uk to book your place or for more information.