Sound and style
Tue, 15 Nov 2011 13:04:00 GMT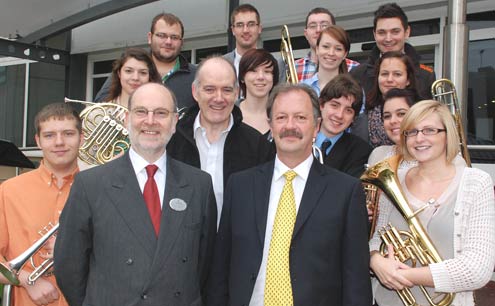 Celebrated trumpet player Rod Franks (front centre right), with Professor John Bryan (front centre left) and cornet soloist, teacher and conductor Phillip McCann (centre), plus the brass students who formed a band of honour to greet Mr Franks when he arrived to receive his Honorary Doctorate of the University
A FASHION icon and a leading musician who has played on the soundtrack of blockbuster movies have been honoured by the University of Huddersfield. And they were given a stirring fanfare by students.
Designer Betty Jackson and trumpeter Rod Franks received their awards – Honorary Doctor of the University - from Chancellor Sir Patrick Stewart in person. And famed cornet player Phillip McCann – who teaches at the University – organised a band of young brass musicians, who played as Rod Franks arrived.
Both of the honorary award recipients have a link to the University – Rod Franks studied here and Betty Jackson has given inspirational advice to fashion students.
Both of the recipients have a link to the University – Rod Franks studied here and Betty Jackson has given inspirational advice to fashion students.
She was born in Lancashire and trained as a fashion illustrator in the early 1970s, with Zandra Rhodes as a tutor, and spent ten years gaining practical experience of the industry, working with such names as Ossie Clarke before launching Betty Jackson Fashion in 1981. Her label, noted for its comfortable, relaxed clothing and its distinctive use of colours and patterns, has been highly prominent ever since and Betty Jackson has been a mainstay of the globally-renowned London Fashion Week.
She has designed ranges for major stores Debenhams and Marks and Spencer and she has been heavily involved with fashion education and charities. Betty Jackson's profile outside the fashion scene was raised when she became widely known for her clothes designs for the characters of Patsy and Edina in the 1990s comedy "Absolutely Fabulous". In 1987 she received the MBE and in 2007 she became CBE.
Betty Jackson has visited the Fashion Department at the University of Huddersfield, examining the work of students in the Creative Arts Building and taking part in an in-depth question-and-answers session dealing with all aspects the fashion industry.
Trumpeter Rod Franks was born in Shipley. His playing can be heard on the soundtracks of blockbuster movies such as Braveheart, the Star Wars and Harry Potter franchises plus The Kings Speech.
He began playing the cornet at the age of six before become a student at the University of Huddersfield (then a polytechnic), where he was taught by legendary trumpeter Maurice Murphy. Rod played with championship winning bands Brighouse and Rastrick Band and Black Dyke Mills while continuing his studies.
In 1977 Rod became Principal Trumpet of the Bergen Philharmonic Orchestra and developed his conducting career in Norway. In 1983 he was invited to join his old tutor Philip Jones as the Principal Trumpet of the Philip Jones Brass Ensemble and in 1988 he joined the London Symphony Orchestra as its principal trumpet, alongside Maurice Murphy.
Rod has played for the soundtrack of over 120 films and is senior trumpet professor at London's Royal Academy of Music.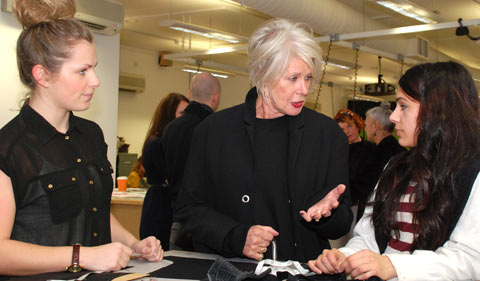 Betty Jackson - newly awarded a Doctorate of the University of Huddersfield - offers advice to fashion students Nicol Goodwill (left) and Abiya Younas