Rugby League World Cup on display
Wed, 13 Mar 2013 12:16:00 GMT
Huddersfield to host England game
‌
AS a keen rugby league fan, University of Huddersfield Vice-Chancellor Professor Bob Cryan was delighted to get up close and personal with the most coveted trophy in the game.
And he did so in company of famous rugby league player and University of Huddersfield graduate Robbie Hunter-Paul (pictured on left), who starred for the Bradford Bulls, the Huddersfield Giants as well as internationally for New Zealand during his playing career.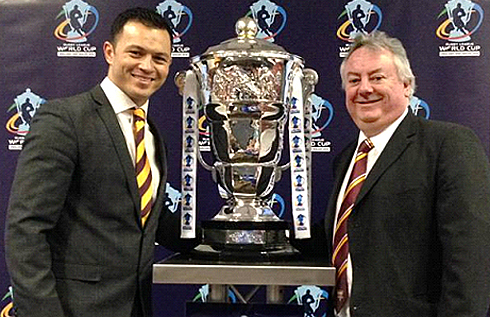 The Rugby League World Cup (RLWC) starts later this year on 26 October, when Australia meets England at Cardiff's Millennium Stadium and it ends on 30 November with the final at Old Trafford. In between, there will be a series of group games featuring teams from 14 countries, leading to the semi-finals played at Wembley on 23 November.
On Saturday 2 November, Huddersfield's John Smith's Stadium – home of the Huddersfield Giants – hosts the group game between England and Ireland.
During the build-up to the tournament, the RLWC trophy has been on tour through the UK, France and Ireland. It was when it made a stop-over at the John Smith's Stadium that Professor Cryan – a supporter of the Giants, his hometown team – took the opportunity to see the trophy, meeting up with Robbie, who has a degree in sports marketing from the University and is now Business Development Manager for the Giants.
"I am very proud of the fact that Huddersfield is the birthplace of rugby league," said Professor Cryan. "The sport has a great heritage, a lot of which has been the subject of research at our University. Therefore it is right and proper that this historic trophy should make a stop-over in Huddersfield. And it will be back when the John Smith's Stadium holds a group match in November."
Pictured below: The 1954 World Cup Champions, Great Britain who defeated France 16-12, in the first ever 'Rugby' World Cup Final, played in Paris.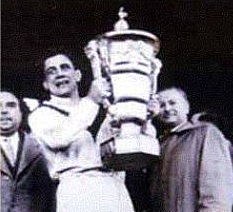 The silver-plated trophy was created for the inaugural Rugby League World Cup, held in France in 1954, and it would be awarded at the next four tournaments.
But during the 1970 World Cup, reigning champions Australia put the trophy on display in the Midland Hotel in Bradford and it was stolen. Nothing was heard or seen of it until 1990, when it was discovered dumped in a ditch near neighbouring Bingley. It was handed back to the Rugby Football League and brought back into use for the 2000 World Cup.