Royal Appointment for Vice-Chancellor
Wed, 26 Sep 2012 15:34:00 BST
Professor Cryan appointed Deputy Lieutenant of West Yorkshire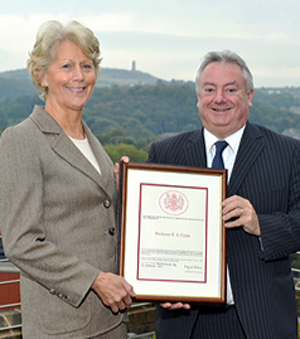 The University's Vice-Chancellor, Professor Bob Cryan, has been appointed a Deputy Lieutenant of West Yorkshire.
The Lord-Lieutenant of West Yorkshire, Dr Ingrid Roscoe, (pictured with the Vice-Chancellor) who is the Queen's representative in the county, signed the Commission of appointment, having first submitted Professor Cryan's name for Non Disapproval to Her Majesty The Queen.
Deputy Lieutenants assist the Lord-Lieutenant in her role and may represent her at a range of official events.
Professor Cryan said: "I am extremely proud to have been invited to become a Deputy Lieutenant, and am delighted to be able to take up my duties during this very special Jubilee year. I look forward to being able to support the Lord-Lieutenant's work at events across the county."
The University of Huddersfield's Chancellor, Professor Sir Patrick Stewart, said: "I am delighted that Professor Cryan has been appointed to this important office. Under his inspirational leadership the University is going from strength to strength. I know he will bring the same commitment and enthusiasm to this new appointment and I send him my warmest congratulations."
Professor Cryan holds five degrees including an MBA and two doctorates and is a Chartered Engineer and Fellow of the Institution of Engineering Technology. He has been Vice-Chancellor at the University of Huddersfield since 2007 and has overseen a period of significant growth and innovation at the institution. A debt-free university, with over 24,000 students, Huddersfield is in the top 10 for graduate employability and for the quality of its teaching accommodation.