RIBA President-elect welcomed back to Hudds
Wed, 13 Mar 2013 10:07:00 GMT
Stephen Hodder gives a guest lecture in the Department of Architecture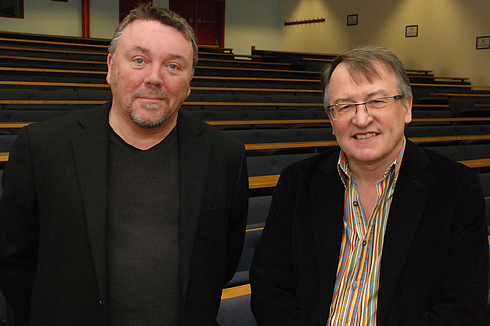 Carl Meddings, Subject Leader for Architecture [left] pictured above with the President-elect of RIBA Stephen Hodder MBE [right]
‌Stephen Hodder MBE, President-elect of RIBA, gave an illuminating guest lecture to the University's Department of Architecture recently.
During his talk, Mr Hodder focussed on the work of his practice, Hodder & Partners, since it was founded in 1983 and in particular their relationship with St Catherine's College in Oxford.
Going into detail he explained how his work has developed over time beginning with the work of Arne Jacobsen, who designed the original St Catherine's College, and how this has resulted in some yet un-built projects, including new student accommodation adjacent to James Stirling's Florian Building at the Queen's College, in Oxford.
Carl Meddings, who is Subject Leader for Architecture at the University of Huddersfield, regularly invites industry speakers to give guest lectures and was delighted when Stephen Hodder agreed.
The RIBA President-elect has a long-standing relationship with the University of Huddersfield after being an external examiner on the former Diploma in Architecture, now M.Arch degree course.
In this video Stephen Hodder MBE gave an interview to the University about the collaboration between client, design and delivery team.