Research shows IQ tests flawed
Thu, 28 Feb 2013 15:13:00 GMT
Senior research fellow in the news for research on the inaccuracies of IQ test scores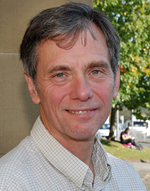 RESEARCH by the University of Huddersfield's Dr Simon Whitaker (pictured) has made him one of the world's foremost critics of over-reliance on IQ test scores to determine whether a person is intellectually disabled.
People who are deemed have IQs above the traditional cut-off point of 70 might be denied the help and support they need – and in the USA, convicted killers with 70-plus IQs can face the death penalty.
But Dr Whitaker's research has led him to argue that it is not possible to define IQ at low levels with such a degree of accuracy. "It makes very little sense to have a definition with a cut-off point," he says.
The same argument applies to IQs at the top end of the scale. Dr Whitaker was recently asked to furnish media comment when it was reported that an Essex teenager had an IQ score of 161, supposedly higher than Einstein.
"I said you can't really measure IQ accurately at that level. Whereas a measured IQ of 161 shows that you are obviously very bright you can't say that you are brighter than someone who has an IQ of 160."
But he is mainly concerned with the implications of IQ scores at low levels. "People who can't cope may not be given a diagnosis, while people who can cope will be given a diagnosis."
In addition to regular media appearances – he was recently interviewed by Al Jazeera TV on the subject of the U.S. death penalty – Dr Whitaker, a consultant clinical psychologist who is a visiting senior research fellow at the University of Huddersfield, will this year have major outlets for his arguments.
Due out is his first book, entitled Intellectual Disability: An inability to cope with an intellectually demanding world.
And in June he will address a British Psychological Society conference that will deal with new ways of defining learning disability.
The margin for errors
Dr Whitaker is calling for an end to cut-off points and has been researching the margin for errors in measurement.
"Ideally, we would move to a situation where learning disabilities or intellectual disabilities are defined in terms of clinical judgment rather than scores on dubious measures.
"After all, you don't get a diagnosis of depression simply by scoring above a particular point on an inventory of depression. You would look at that score and would take it into account, but you would make a technical judgment based on all the information about the patient.
"That is basically all I am asking for when we diagnose learning disabilities. IQ would inform a decision, but the criteria would not be written in terms of a specified IQ score."
In this video Dr Simon Whitaker talks more indepth about his research into measuring IQ.
Second image courtesy of freedigitalphotos.net