Rebels with a cause
Mon, 21 Nov 2011 11:32:00 GMT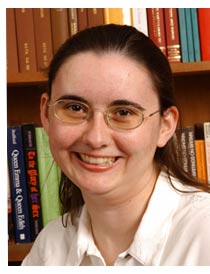 LISTENERS to BBC Radio's leading history programme heard a University of Huddersfield lecturer explain the origins and the repercussions of an ill-fated Catholic rebellion in the North of England that was ruthlessly put down by Queen Elizabeth I and her supporters. As many as 600 rebels were executed in the aftermath of the rising, which took place in the dying months of 1569.
Dr Sarah Bastow (pictured right) – an expert in the survival of Catholicism in the North, following the Reformation – was invited to contribute to Radio 4's "Making History". The programme provided an account of the events of November and December 1569, when the Earls of Westmoreland and Northumberland mustered a force of 1,500 men and marched south from Durham. But when they reached Selby and learned that Elizabeth's forces, under the Earl of Sussex, were preparing to do battle, they beat a hasty retreat. The earls fled to Scotland but many of their followers were rounded up and hung.
The events of 1569 are still remembered in the North East, many parts of which have remained Catholic strongholds.
Dr Bastow explained that after Henry VIII's reformation, the North of England had remained more conservative than the South in terms of religion and in the 1560s there were still large numbers of Catholics. The authorities did not interfere too greatly.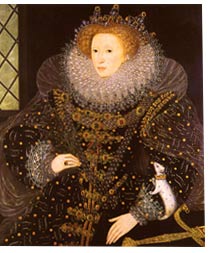 But by 1569, Mary Queen of Scots had arrived in England. She was incarcerated by Elizabeth (pictured left) but provided a potential rallying point for Catholics, who saw her as an alternative Queen of England. After a plan for the Catholic Earl of Norfolk to marry Mary fell through, the Earls of Westmoreland and Northumberland – who had been summoned to attend Elizabeth's court - were panicked into staging their abortive rebellion, which never had any chance of success, in the opinion of Dr Bastow.
As a result of the rising, Catholics in the North were subject to a government crackdown. This might have happened in due course anyway, according to Dr Bastow, but it was hastened by the 1569 rebellion.
Despite the backlash, many Northern families clung on to their Catholic beliefs – right through to the present day.
Dr Bastow's research interests lay with religious reform and the North of England, with a current project on Archbishop Edwin Sandys, who was an Elizabethan Archbishop of York. She is also currently working on material relation to reputation and honour in the early modern period and non-verbal communication in the early modern period, including dress and conduct.