Read all about it!
Mon, 24 Sep 2012 13:48:00 BST
University's innovative reading list system receives an award from library experts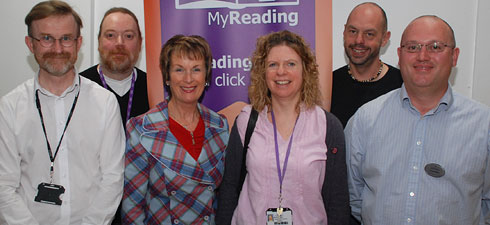 Members of the MyReading team pictured above [left to right] Chris Beevers, Dave Pattern, Eileen Hiller, Alison Sharman, Andy Raistrick and Andrew Walsh
NEW and returning students at the University of Huddersfield have been learning about innovative software that gives their studies an edge by providing instant, up-to-date reading lists and which ensures that they have access to all the books and other texts that they need.
Now the system, named MyReading, has earned plaudits from the major professional organisation for library management. At its annual conference, the National Acquisitions Group (NAG) bestowed its Award for Excellence on the pioneering University of Huddersfield software.
"We were thrilled to receive the NAG award," said Eileen Hiller, who is Head of Academic Services for the University of Huddersfield's Computing and Library Services. She paid tribute to the team that developed MyReading and thanked Professor Tim Thornton, the University's Pro Vice-Chancellor for Teaching and Learning, who was a "driving force" behind the project.
At the 2012 Freshers' Fair at the University, Eileen and her team have ensured that new students found out about MyReading and how to use it. The project began in 2010, in order to increase the number of modules that were accompanied by reading lists, to enable students to see the lists online and gain direct access to electronic texts. Meanwhile, MyReading automatically ensures that the University Library acquires sufficient copies of essential books that appear on the reading lists.
Rapid progress is being made towards the goal of ensuring that 100 per cent of the University's modules are incorporated into MyReading. And statistics show an increasing number of students using the system. It is unique in UK Higher Education but its success means that there are plans for it to be marketed commercially.
The aim was to improve the student experience, explained Eileen Hiller. A steering group was set up to improve reading list provision, but when it was discovered that no suitable software was available, it was decided to develop MyReading in-house.
Input from students was central to the project and the software was developed by Dave Pattern, Library Systems Manager, a former Information Professional of the Year at the Information World Review Awards.