Quest for the ultimate health drink

Fri, 18 Nov 2011 15:22:00 GMT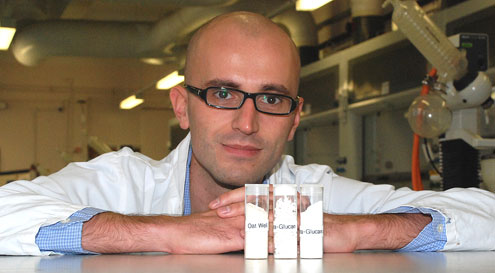 Dr Vassilis Kontogiorgos - investigating oats and health-giving beta-glucans
IT is well-known that oats have remarkably beneficial effects on health. But their full potential has yet to be unlocked and scientists at the University of Huddersfield are working on a solution.
It could lead to a new range of products that are able to prevent major health problems. In addition to their ability to reduce harmful cholesterol – and the UK population has one of the highest average cholesterol concentrations in the world – oats may also help to stabilise blood glucose levels, a benefit to people with diabetes.
One goal is a shot-sized milk drink which could help provide a required daily dose of the health-giving properties of oats. These are derived from polysaccharides known as beta-glucans, which can be extracted from oats. At the University of Huddersfield, lecturer Dr Vassilis Kontogiorgos has gained a greater understanding of how beta-glucans behave when mixed with a protein such as milk.
A new journal article, written in collaboration with other experts in the field, describes his recent experiments. They have led to breakthroughs, but the fact remains that when beta-glucans extracted from oats are introduced into milk, the resulting substance has an unappealing texture.
"It is a mess, basically!" said Dr Kontogiorgos, who has been researching the problem and publishing his findings since 2004.
The sliminess of porridge is derived from the beta-glucan in the oats used to make it. But in a milky drink, the viscosity would be unpleasant to most palates.
"And the drink not only has to be pleasant, but it has to deliver three grams of beta-glucans a day to have positive health effects, "added Dr Kontogiorgos.
He is continuing with the quest for a more palatable beta-glucan based substance. Among those joining him is his Huddersfield-based PhD student, Jacob Agbenorhevi, one of the co-authors of the new article.
Leading companies in the food industry are highly interested in the project, but when the problem of producing an acceptable beta-glucan extract has been solved, another hurdle will be the rigorous testing that will be required before it becomes an authorised food additive.
"So it's one thing to produce it in the lab, another thing to get it on to the shelves!" said Dr Kontogiorgos. But he is confident that his research will free the full potential of the humble oat.
The paper 'Rheological and microstructural investigation of oat β-Glucan isolates varying in molecular weight', by Vassilis Kontogiorgos and Jacob V. Agbenorhevi, of the University of Huddersfield, Andrew R. Kirkby of the Institute of Food Research, Norwich, and Susan M. Tosh of Agriculture and Agrifood Canada, is published in the current International Journal of Biographical Macromolecules.