Queen Vic!
Wed, 15 Feb 2012 16:17:00 GMT
University's new Queen's Nurse argues for the vital role of district nurses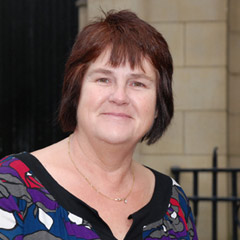 They are highly qualified and are trained in a wide range of skills, enabling them to provide expert holistic care for patients who remain in their own homes – it's difficult to quantify exactly what a district nurse does and the number of district nurses is in decline locally and nationally, says Vicky Kaye (pictured).
The Queen's Nursing Institute (QNI) itself – which bestows the Queen's Nurse title – has launched a campaign to reduce a fall in the numbers of district nurses after it was revealed in 2010 that for the first time they had dropped to below 10,000 in England and Wales. The trend has continued.
But it is a false economy to cut back on district or community nursing, argues Vicky Kaye, a former district nurse herself who now lectures in the subject. "They actually offer exceptionally good value, because they combine clinical, leadership and management skills," she adds. "As a Queen's Nurse I will try and raise the profile of district nursing and argue for its importance."
It was in late 2011 that Vicky made her application to become a Queen's Nurse – a title that has its origins in Victorian times. Changes in health care meant that the title lapsed for a period, but it was revived by the Queen's Nursing Institute in 2007. It is now awarded after a successful application that requires evidence of experience – backed up by references – and, in the words of the QNI, a "commitment to patient-centred values and continually improving practice".
Vicky has now learned that her application was successful and she will receive her certificate and badge at a London ceremony in April. Meanwhile, she can use the initials QN after her name. "But it is not a title I can keep forever. I have to send in an annual report showing what I have done in the field," she says.
Vicky has lectured at the University of Huddersfield for six years. She is now full-time but originally combined her teaching role with that of a practice teacher. Bradford-born, she worked in the city as a district nurse for many years, eventually becoming clinical lead for district nurses in its city primary care trust, before her move into lecturing.
"District nursing has changed dramatically," she says. "Care in the community is now a lot more clinically focussed and complex. It used to be a lot more about social care".
A district nurse has to cope with patients receiving a massive range of treatments and conditions, and lead a team of nurses to deliver that care.
"For example, you have patients at home who are on ventilators, with really complex needs, who previously would have been kept in hospital, or preventing people from being admitted to hospital so they can remain at home."
Anyone wishing to become a district nurse would need to have a nursing qualification and at least two years' experience before they can begin to study for the Masters degree in district nursing that is taught at the University of Huddersfield. As a lecturer, Vicky's subject areas include long-term conditions, community nurse prescribing and leading and managing complex care.
She also works on the MSc Advanced Nurse Practitioner course as route leader for the community matrons, with her University of Huddersfield colleague Melanie Rogers – who became a Queen's Nurse in 2008. There are just 16 of the 200 Queen's Nurses in higher education.