Queen's Award for Enterprise Promotion
Fri, 19 Apr 2013 15:08:00 BST
Huddersfield professor wins Queen's Award for Enterprise Promotion
A PROFESSOR who has played a central role in developing the University of Huddersfield's reputation as the most entrepreneurial in the UK is to receive a special award from Her Majesty The Queen.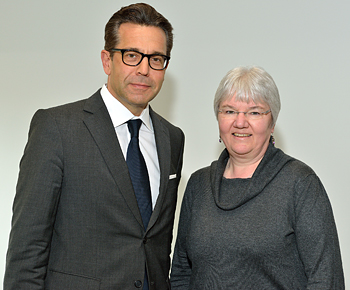 Liz Towns-Andrews (pictured opposite with Mr Stefan Gabriel, President of 3M New Ventures), who is the University's 3M Professor of Innovation, is one of just ten recipients of this year's Queen's Award for Enterprise Promotion. The announcement was made on The Queen's Birthday and Professor Towns-Andrews was nominated for the award by a list of distinguished figures headed by Sir Patrick Stewart, who is Chancellor of the University of Huddersfield.
Professor Towns-Andrews – who is a scientist by training – came to the University of Huddersfield as Director of Research and Enterprise in 2009. Notification of The Queen's Award came as a total surprise, she said.
"When I opened the letter it was a complete shock, especially when there are only ten of these awards given to individuals each year. It's such an honour to be recognised."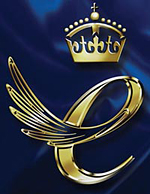 Queen's Awards for Enterprise are regarded as the UK's most prestigious accolades for businesses and individuals. The award for Enterprise Promotion recognises individuals who make outstanding contributions to enterprise culture in the UK. Individual Queen's Awards are bestowed for life on the recipients, who are invited to a Buckingham Palace reception.
Professor Towns-Andrews conceived the new enterprise and innovation centre at the University of Huddersfield that has now been named as the 3M Buckley Innovation Centre. It was constructed at a cost of £12 million – with a large contribution coming from the European Regional Development Fund – and it is now operational, offering state-of-the-art office, research and conference facilities to businesses that range from large corporations to ambitious start-ups. They are also able to develop close links with the University and draw on its research capabilities.
The Centre takes its name from former University of Huddersfield student Sir George Buckley, who rose to become the CEO of multi-national corporation 3M. He was one of the top business figures who backed up Sir Patrick's nomination of Professor Towns-Andrews for The Queen's Award.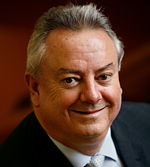 The development of the Innovation Centre plus the links forged with 3M and a roster of other leading industrial companies such as BorgWarner are among the key factors which lead to The Queen's Award, said Professor Towns-Andrews.
‌"But although it might be a personal award for me it is a team award really," she added. "The support I have been given by the University's Vice-Chancellor, Professor Bob Cryan (pictured left), and whole management team has been tremendous and they need to see it as their award as well."
The Queen's Award for Enterprise Promotion comes close on the heels of the award from the Times Higher Education magazine of Entrepreneurial University of the Year and the award to the University's Vice-Chancellor, Professor Bob Cryan, of Inspiring Leader from The Guardian newspaper.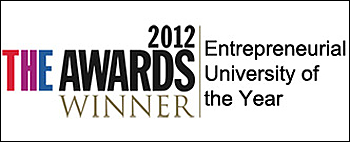 Professor Cryan is delighted that Professor Towns-Andrews has been awarded The Queen's Award: "I am determined that our university should engage closely with business and play an important role in economic regeneration. Liz has been a crucial figure in achieving this ambition. She is an inspiring person to work with and has transformed the campus with the development of the 3MBIC. She has also helped to enhance our reputation as a business-facing university and The Queen's Award for Enterprise Promotion is a fitting recognition of her talents and her vision."
Although Professor Towns-Andrews is still focussed on developing the University of Huddersfield's role in enterprise and innovation, she is also rekindling her original role as a research scientist, working on projects with University experts in inorganic chemistry and particle acceleration. She trained as a chemist and gained a PhD in X-ray crystallography, working at major UK research facilities before moving into the field of innovation and enterprise.
"I have never lost my passion for science and I have taken it with me into my new career," she said. "Technology is really important for companies going forward. They must be able to take ideas and new intellectual property through to end-users and markets and know how to exploit them and solve problems."