Professor advocates nuclear alternative on TV
Fri, 22 Mar 2013 13:42:00 GMT
"Thorium is the future" is the message on the BBC World News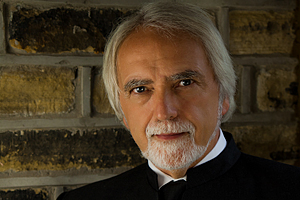 THE University of Huddersfield's Professor Bob Cywinski (pictured) is a leading advocate for the use of thorium as a cheap, plentiful, environmentally-friendly and safe alternative form of nuclear fuel. Now he has made the case on a BBC TV channel that broadcasts to more than 200 countries and reaches audiences of 74 million.
A recent edition of the BBC World News programme Horizons, presented by award-winning business and science journalist Adam Shaw, visited the Daresbury laboratories in Cheshire, run by the Science and Technology Facilities Council, home to the groundbreaking EMMA particle accelerator. This is the technology required if thorium is to be used as an alternative to uranium for nuclear power.
The broadcasts can still be seen on the BBC World News Horizons programme website (click here to view) and the specific section of the programme relating thorium can be viewed under web clip Part 3 entitled 'New nuclear processes'.
Professor Cywinski – who is Professor of Physics and Special Adviser on Research at the University of Huddersfield, and a member of its International Institute for Accelerator Applications – told reporter Adam Shaw that the challenge had been to build a compact, reliable and affordable type of accelerator. EMMA was the prototype for this, he said.
In these two videos, previously done on campus, Professor Cywinski along with British scientist, author and broadcaster Professor Jim Al-Khalili OBE, give their views on why thorium is a viable alternative to uranium in the production of nuclear power.
Asked about the special qualities of thorium as a fuel, Professor Cywinski said that it produced much less radio-toxicity than uranium and only a tiny quantity of plutonium was produced by a thorium nuclear reaction.
Thorium was four times more plentiful than uranium, said Professor Cywinski, and it would last as a fuel element for years rather than months.
Also, a reactor could be built which used fuel that was a mix of "legacy waste" and thorium.
"You can burn that legacy waste and turn it from a liability into an asset. You can reduce the radio-toxicity, or the dangerousness of the waste by a factor of 10,000 or more," he added.