Prince's Trust unites with Uni
Mon, 23 Apr 2012 09:55:00 BST
"We are ideally placed to work with The Prince's Trust"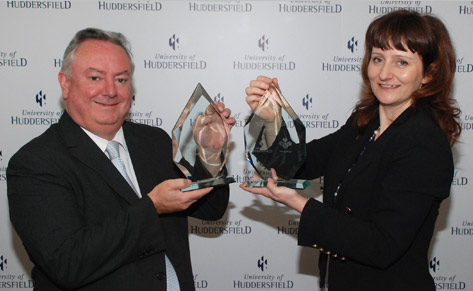 The University's Vice-Chancellor, Professor Bob Cryan, is pictured with The Prince's Trust's Regional Director Samantha Kennedy.
AN organisation started by HRH The Prince of Wales to improve the lives and job prospects of disadvantaged young people has formed a pioneering partnership with the University of Huddersfield.
Youth charity The Prince's Trust, formed in 1976, provides support for 50,000 disadvantaged young people a year helping them into work, training or education.
The Prince's Trust in Yorkshire will now be working with the University to help get more people in the region into work. Last year, more than three in four young people on Prince's Trust schemes moved into work, education or training. The aim is for the two organisations to share resources and the partnership will also lead to important research in fields such as enterprise and the problems faced by jobless young people.
"We are ideally placed to work with The Prince's Trust," said Dr Kelly Smith, who is the University of Huddersfield's Head of Enterprise. There is common ground between us in how we want to support young people to be enterprising and fulfil their potential so there is a lot of work we can do together."
Previous links between the University of Huddersfield and The Prince's Trust include the excellent track record of events management students in the annual Million Makers event, in which student teams compete to raise the most money for the Trust.
Samantha Kennedy, Regional Director for The Prince's Trust in Yorkshire, said: "We are delighted to be signing this agreement with the University of Huddersfield. They have been fantastic to work with so far and we hope through this partnership we can help many more young people into work at a time when they need it the most."
When HRH The Prince of Wales paid a visit to University's Barnsley Campus earlier this year, he held talks and heard presentations from Prince's Trust staff and young people who had been helped by the charity. University premises will continue to be made available for Prince's Trust activities.
Part of the agreement between the two organisations is that the Trust will develop its links with the University's Business Mine – which provides advice, mentoring and financial help to enterprising students – and with the University's new £11.5 million Enterprise and Innovation Centre, which is nearing completion.
The University and The Trust will also collaborate in fields such as work placements, apprenticeships and the development of courses.
The Prince's Trust helps young people by offering practical and financial support and developing key workplace skills such as confidence and motivation. It works with 13- to 30-year-olds who have struggled at school, have been in care, are long-term unemployed or have been in trouble with the law. Last year, more than three in four young people helped by the Prince's Trust moved into work or training.
The Vice-Chancellor of the University of Huddersfield, Professor Bob Cryan, welcomes the Memorandum of Understanding. "One part of our mission that is very important to me personally is to widen access to Higher Education so that as many people as possible fulfil their potential. Also, we encourage and provide backing for students with bright business ideas and we are a major centre for research into some of the educational and social problems that confront today's youth. All of this means that we are a perfect fit with the Prince's Trust and I expect that we will have a very fruitful partnership."