Postgraduate Open Day
Tue, 12 Nov 2013 10:00:00 GMT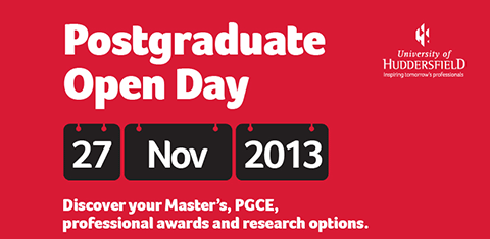 Not long to go until our Postgraduate Open Day on Wednesday 27 November 2013.
It's a great opportunity to explore postgraduate or research study options, speak to our careers and finance advisors and hear from postgraduate students and course leaders.
You can help in the following ways:
If you are a course tutor, encourage your undergraduate or postgraduate students, who may wish to continue their studies, to attend and consider further study with us.
Tell friends and family, the event is open to anyone interested in postgraduate or research study, full or part-time.
Join us if you're a member of staff considering a part-time course to improve your skills and professional profile.
The Open Day runs from 1.00pm until 6.30pm in the Creative Arts Building and you can call in any time. We will be offering Finance and Careers talks during the Open Day as follows:
2.30pm and 6.00pm – Finance talk
3.15pm and 5.00pm – Careers (PG study and research - everything you ever wanted to know but were afraid to ask!)
Find out more or book online at Postgraduate Open Day
If you have any questions about this event or postgraduate and research study at Huddersfield, get in touch with us at postgrad@hud.ac.uk