Podium potential
Mon, 23 Jul 2012 15:34:00 BST
Performance metrics the key to sporting success according to new professor of operations management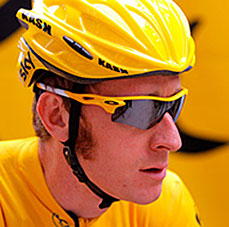 THE victory of Bradley Wiggins (pictured right) and the expertly assembled Sky cycling team in the Tour de France could be a model for success in many arenas, according to a University of Huddersfield professor who is pioneering the use of operations management theory in the field of sport.
When his ideas are adopted, the results could be better-managed stadiums and competitions, providing a more rewarding experience for larger numbers of fans, cheering on teams and players performing to the peak of their ability and in addition, greater profitability of clubs. And the selection of players would be based on statistical evidence rather than gut feeling by coaches and managers, says David Bamford (pictured below), who is Professor of Operations Management at the University's Business School.
"The idea would be to move away from the cult of personality and more towards what the Sky cycling team did. They identified the athletes they needed on the basis of their podium potential. You identify that by using performance metrics."
And this use of key performance indicators is taken straight from operations management theory, which is Professor Bamford's area of expertise.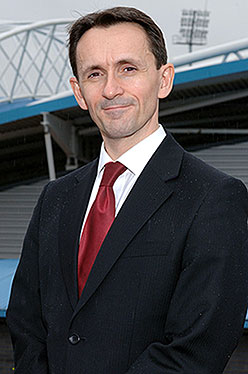 He is a former industrialist and engineer who switched to an academic career in order to research, teach and write about operations management, which aims to ensure that business is run as effectively and efficiently as possible, providing the best experience for customers.
The winner of many awards for his research projects, he began to realise that his theories could be applied to the sports world.
"The World Academy of Sport in Manchester asked me to provide some training for them and I spent a couple of days teaching directors of Tour de France cycle teams how to do statistics. This was the first time that this type of training had been provided.
"My research was originally in manufacturing and in services, predominantly in healthcare. Now, the idea of applying the skill set of operations management to the sports area proved enticing," said Professor Bamford. He soon realised that relatively little academic work had been done in the field, so his input could provide some real impact.
Sports operations management research
Now, with research assistant, Benjamin Dehe and Jim Bamford, a University of Huddersfield lecturer who is also an operations management expert, he has formed a research group at the University of Huddersfield and one of its key aims is to develop a role in sports operations management.
Already, in addition to the link with the World Academy of Sport, Professor Bamford and his team have been working with the Leigh Centurions rugby league club (pictured), conducting an on-line fans' satisfaction survey, and he has also been working with managers of international cricket, netball, karate, and snowboarding teams.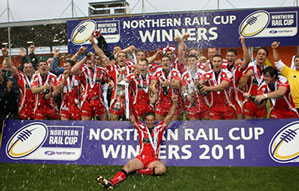 One area they will be examining is the management of stadiums, so that the best use can be made of sporting infrastructure.
"We have found that America and Australia are probably about 15 years ahead of us in terms of the commercialisation of sport and how they have professionalised the users' experience," said Professor Bamford. "This raises the fans expectations about the level of service they should expect; ultimately what we a trying to do is make the total event experience more seamless, by design."
Part of his aim is to ensure that sports clubs get a better return on their investment in facilities. But fans too will benefit, if operations management techniques are used to boost playing standards, providing a more rewarding spectacle.
"There is a direct correlation between what happens on the pitch and the users' experience. So the next stage is to see how we can use numbers, metrics and business analysis to improve the on-field performance. This should create a virtuous circle of improvement."
"When we get that right, then we really will provide a missing link," said Professor Bamford, who cites not only the Sky cycling team but also the Brad Pitt movie 'Moneyball', based on the true story of a baseball manager who achieved massive success by assembling a team using metrics and performance indicators.
Is there a danger that sport will be robbed of its romance?
"No. The passion that players and athletes put into their sport can never be broken down into just dry statistics. The reason fans watch sporting events is for the very unpredictability of the outcome and the emotion and beauty of the physical performance. Operations management can aid the athlete and players by ensuring they are at the right place, with the right kit at the right time to turn in a winning performance. We can ensure, by design, that the little details that could distract from a peak performance are minimised. I don't think sport could be dry and unemotional, operations management has the potential to increase the satisfaction of the spectators even further," said Professor Bamford.