Photographs from the 'Frontline'
Wed, 05 Sep 2012 11:48:00 BST
Researcher will confront exhibition visitors with the real lives of drug users and the places they use to inject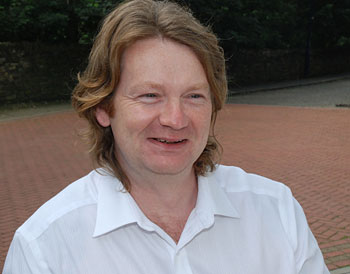 RESEARCHER Dr Stephen Parkin (pictured right) will use the most graphic means possible in order to inform the public of the harsh realities of the lives of drug users and the street-based settings where they prepare and inject substances such as heroin and crack cocaine.
His goal is to ensure that the public health authorities do not let up in efforts to reduce the harm that drug users may do to themselves and the wider community.
He is mounting an exhibition at the University of Huddersfield, accompanied by a lecture series. Named 'Frontline', it consists of more than 50 images and is the result of Dr Parkin's use of photo-ethnography as a method of research and a way of presenting his findings.
During some 15 years of research, Dr Parkin – who was appointed a research fellow at the University's School of Human and Health Sciences earlier in 2012 – has taken more than 1,000 photographs of the varied spaces and places typically used and adapted by drug users.
"On the basis that a photograph is worth a thousand words, I thought that instead of asking people to read all of the literary academic material on the subject, why not present the images instead as a way of creating public engagement and understanding," he said.
Dr Parkin is from County Durham and his interest in community development led him to study anthropology for his first degree. He then joined university research projects in Newcastle and Glasgow which led to his interest in issues around drug and alcohol dependency.
The subject has remained central to his work and his doctorate was acquired after he conducted research into public injecting drug use in the Plymouth area. He then replicated his PhD project by studying street-based heroin and crack-cocaine use in two further UK locations, continuing to use the techniques of photo-ethnography.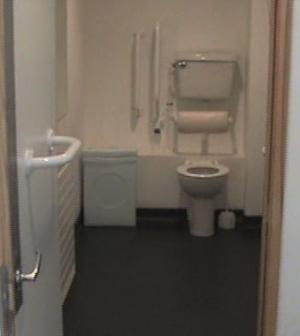 His pictures depict a hierarchy of the public environments in which drug use takes place. He describes them as "controlled" (principally public toilets with access to light and water); "semi-controlled" (such as areas of public parks, beneath railway bridges or in various street locations); and "uncontrolled" (such as stairwells or footways known only to single or pairs of injecting drug users).
Dr Parkin's goal in presenting images of these places is not to glorify or to demonise existing drug users, he says. His research revolves around the principle of "harm reduction", which neither condemns nor condones drug use.
"It is a concept that is built into the national drug policy," says Dr Parkin. "Essentially it focuses on the health of the individual drug user.
"Developments such as needle exchange and methadone maintenance were introduced to address the HIV/AIDS epidemic of the 1980s, as well as to reduce drug-related crime and anti-social behaviour. So my work is on that theme – how can local services respond in a harm reduction manner to particular drug problems in a local area?"
Recently, however, the emphasis of public policy has changed, says Dr Parkin.
"Harm reduction policies have been overshadowed by a national and strategic interest in treatment-based and recovery-based intervention," he says. "As such, one aim of my exhibition is to put harm reduction policy back on local radars and national agendas."
The 'Frontline' exhibition – backed by the University of Huddersfield's Research Impact Fund – opens in the Harold Wilson Building on Monday 17 September and runs until Friday 12 October. There will also be public lectures at which Dr Parkin describes his research. (See below)
He hopes that members of the general public as well as people professionally involved with drug issues will attend the exhibition and lectures.
"With the images, what I am hoping to show is that public injecting drug use may not necessarily be associated with chaotic, anti-social behaviour. I am also trying to show that the settings in which people are taking drugs are hidden and dangerous places for people to inject and that harm reduction needs to continuously address these places."
Frontline Photo Exhibition public lectures:
Wednesday 19th September - 3.15pm to 4.15 pm in the Harold Wilson Building, Floor 2, Room 32 (HW2/32)
Wednesday 26th Sept, 3rd Oct and 10th Oct - 3.15 to 4.15pm in the Harold Wilson Building, Ground Floor, Room 03, (HWG/03)
All lectures are open to the public, with free entry and refreshments.
See more of Dr Stephen Parkin's work in the video below: