Pharmacy Suite officially opened
Thu, 31 Jan 2013 15:07:00 GMT
Pharmacy students benefit from new, state-of-the-art facility
Story updated - 4th February 2013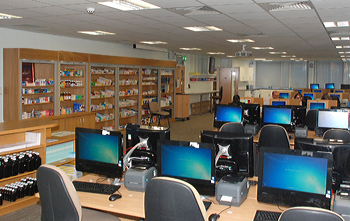 PHARMACY students at the University of Huddersfield have new and fully-integrated facilities where they can experience every aspect of their future profession – from one-to-one consultations with patients to the preparation of highly-specialised medicines in strictly-controlled conditions.
Professor Chrystyn, Head of Pharmacy, said: "The new facilities will enhance the provision of the MPharm as well as the learning experience of the students."
The new suite (as seen above) was developed as a consequence of the new £22.5 million Learning and Leisure Centre now under construction at the University. This necessitated the demolition of the Shorehead Building, where some of the facilities for the study of pharmacy practice had been located.
"It was a fortunate chain of events," said Dr Margaret Culshaw, who is Deputy Head of Pharmacy. It meant that staff offices and facilities for teaching, plus pharmacy practice and pharmacy science could all be moved into the same building, she explained.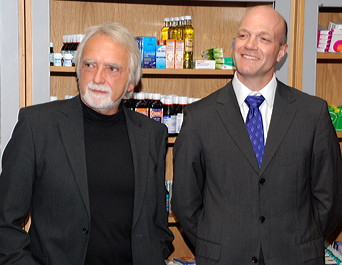 "What we have now compares fantastically well to other schools of pharmacy. Everything is up-to-date and brand new. It certainly has the wow factor!" said Dr Culshaw.‌
The new pharmacy suite was officially opened by Jonathan Mason, who is Clinical Director for Primary Care and Community Pharmacy for the Department of Health. In 2012 he was awarded an honorary doctorate by the University of Huddersfield and is pictured on the right with the Dean of Applied Sciences Professor Bob Cywinski.
The University also invited Professor Chris Cutts, the Director of the Centre for Pharmacy Postgraduate Education, to the launch as a guest of the department. It was Professor Cutts's first visit to the campus and as well as touring the new facilities he talked to some of the third and fourth year pharmacy students. See Chris talk more in the video below.
The new suite has a preparation area and a dispensary which can simulate a range of real-life settings such as a community pharmacy.
"Every student has their own workstation with their own computer and label generator. It's as real as it can be," said Dr Culshaw. "We dispense real medicines and we use simulations of real prescriptions."
‌People skills that are vital to a pharm‌acist‌
Realism is also the keynote in an aseptic preparation area, with equipment that includes two laminar flow cabinets and both negative and positive pressure isolators.
In this setting, pharmacists clad in full protective wear prepare special prescriptions for cancer drugs that are toxic to healthy cells. Not only must the drugs be produced in completely sterile conditions, it is vital that the pharmacist does not come into direct contact with the substances. Difficult techniques must be mastered and for safety reasons the raw materials for these cytotoxic drugs are ingeniously simulated from safe materials such as poster paint, sugar and salt.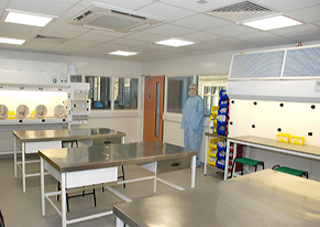 "They are put together to replicate the different colours and different solubilities of medicines that you would find in real life," said Dr Culshaw.
The new pharmacy practice suite also includes a special room where private consultations can be simulated. The 'patients' are either staff or other volunteers. Cameras are installed so that the consultations can be recorded and critiqued either by the individual students or by a whole class.
This helps to develop the people skills that are vital to a pharmacist, said Dr Culshaw.
"It s important that people are trained in communication, so that they can gain people's confidence," she added.
"Pharmacists are responsible for making sure that patients receive the best possible medicine for their condition, make sure that the patient can use and understand their medicine and then monitoring patients on long-term conditions, ensuring that patients continue to take their medicines and get the best from them. After all, the worst value medicine is one that is never taken."