Paxman Coolers appoints further KTP Associate
Fri, 24 May 2013 14:53:00 BST
Hair loss for patients undergoing cancer treatment - research team welcomes new member
‌A UNIVERSITY of Huddersfield research project which aims to solve the problem of hair loss for patients undergoing cancer treatment has a new team member.
Omar Hussain (pictured) has been appointed as the Associate for the Knowledge Transfer Partnership (KTP) between the University and the innovative Huddersfield company Paxman Coolers, which has become an innovator in the design and manufacture of cooling caps that stem hair loss.
Hair loss during chemotherapy is one of the most traumatic side-effects of cancer treatment. Paxman Coolers is already the world leader for devices designed to combat the problem and the company has developed a number of major research collaborations with the University.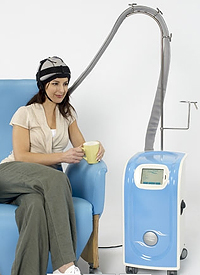 Scientists Dr Nik Georgopoulos and Dr Andrew Collett are carrying out research that will lead to deeper understanding of the science behind the cooling effect, leading to further improvements in the globally-marketed caps (pictured left).
‌Omar Hussain, aged 26, from Halifax, studied for a BSc degree in pharmacology, and followed this with a Masters degree in cancer pharmacology. Having developed a specialist interest in the field of cancer treatment, the Paxman Coolers KTP was an ideal opportunity, he said.
He divides his time between Paxman Coolers and labs at the University of Huddersfield, and he is immensely impressed by the firm and its cooling cap technology. Now the aim is to discover the scientific rationale behind the process, he says, and he praises the support he receives from Dr Georgopoulos and Dr Collett.
‌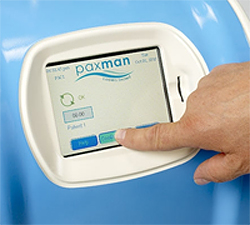 Omar – whose brother Usman, a qualified fitness instructor, is studying human biology at the University of Huddersfield – has experience of working with industry. He was employed by the computer processor firm Intel to give presentations to dealers and customers in West Yorkshire on its latest processors. This experience, allied to his postgraduate study in cancer pharmacology, meant he was well equipped to become Associate for the Paxman Coolers KTP.