On target for an award
Mon, 24 Sep 2012 10:56:00 BST
Innovative software means University of Huddersfield keeps close tabs on the complex student recruitment process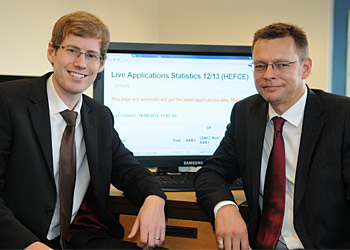 INFORMATION technology experts at the University of Huddersfield have given it a valuable edge in the competitive, fast-moving world of higher education. They have developed a web application that reports real-time student recruitment against centrally-stored target information.
Now the innovation is in line for major recognition after being shortlisted in the Outstanding ICT Initiative of the Year category of the 2012 Times Higher Education Awards.
There are two dimensions to the new application, explains University of Huddersfield Information Systems Developer Tom Austin (pictured above left), who created the new package with Information Systems Manager Stuart Marshall (pictured right).
First comes an application named Course Manager, which not only provides up-to-date lists of live courses at the University, but also enables accurate target information to be stored and amended in a central location. This system replaces a previous, laborious method in which teams collated the information manually, using spreadsheets. The data was often out-of-date and it proved difficult to keep track of the latest version.
The second element is named Live Applications Statistics, which reports applications to courses in real-time. This means that applications can constantly be monitored and compared to targets at University, faculty and course level.
"Live Applications Statistics is completely automated, so there are massive gains to the University in terms of efficiency and accuracy," said Tom.
He added that the new software suite also enabled the University of Huddersfield to respond much more effectively to Government-imposed quotas and regulations, such as the numbers of students with AAB+ or equivalent.
Winners of the 2012 Times Higher Education Awards will be announced at a ceremony on 29 November. The University of Huddersfield is also shortlisted in the Entrepreneurial University of the Year category.