Now read on!
Thu, 22 Mar 2012 16:16:00 GMT
Lecturer's praised debut novel earns a global recommendation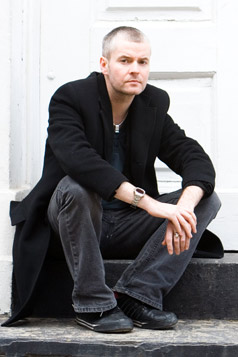 AWARD-winning author and University of Huddersfield lecturer Michael Stewart (pictured) will soon gain 50,000 readers overnight.
But they will only be able to sample the first three chapters of his debut novel. If they want to find out what happens next they will have to get hold of a copy of 'King Crow', a widely-praised novel about two boys on the run who head for the Lakes.
One admirer of the book – published in January 2011 – is the author David Peace, several of whose novels have been televised and filmed. He is one of the writers selected to have 50,000 copies of one of their books specially printed and distributed free on World Book Night – April 23.
The event takes place throughout Britain, Ireland, the USA and Germany and the aim is for people who are already keen readers to hand out free copies of books to people who rarely read, hoping to stoke their enthusiasm. All of the authors whose works have been chosen for the special edition were asked to recommend a book themselves. And David Peace – whose 'The Damned United' is one of the World Book Night titles – selected 'King Crow'.
The first three chapters of the book will be included with the WBN edition of 'The Damned United' and David Peace will add an explanation for his choice.
"King Crow is a gripping and moving story told in a unique, yet authentic Northern voice," he says. "It is a brilliant first novel and the best debut I have read in a long time. I am excited and intrigued about what Michael Stewart will write next."
The answer to that question is that Michael has already completed the first draft of his next novel – a psychological revenge thriller provisionally entitled 'Café Assassin', set in 1980s Manchester and present-day Leeds. And he continues with his long-established career as a dramatist, with a new Radio 4 play nearing completion.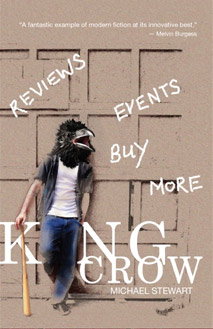 Michael was born and brought up in Salford and has written several full length stage plays, one of which, 'Karry Owky' was joint winner of the King's Cross Award for New Writing.
He has won the BBC's Alfred Bradley Award and his plays have been performed throughout the country as well as radio and TV.
At the University of Huddersfield he is senior lecturer in creative writing at the University of Huddersfield, the director of the Huddersfield Literature Festival and the editor of Grist Books.
He is delighted by the success of his first novel, 'King Crow', which has a cult following that was cemented when it won the offbeat Not the Booker Prize competition, run last year by the Guardian newspaper.
Judges described it as "psychologically adept, funny, nasty, daft and shockingly realisitic all at the same time".
But why the switch from plays to novels?
"There is a problem in theatre nowadays, in that writing is seen as a little bit old fashioned," he says. "Most new companies are devising work, or it's site specific or improvised. It is very rare that they work with a traditional script. I have found myself outside of what's trendy really!
"But also, I also wanted to pursue much more complicated and sustained narratives," adds Michael.