New sports hall on course for completion
Fri, 08 Mar 2013 11:09:00 GMT
£22.5 million Learning and Leisure Centre will be operational by 2014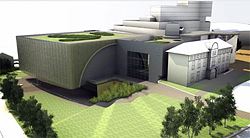 Despite the inclement weather of the winter months, the University is pleased to announce that building work on its new Learning and Leisure Centre remains on target for completion.
The £22.5 million building, under the direction of main contractor GB Building Solutions, is scheduled for completion in the early part of 2014. ‌‌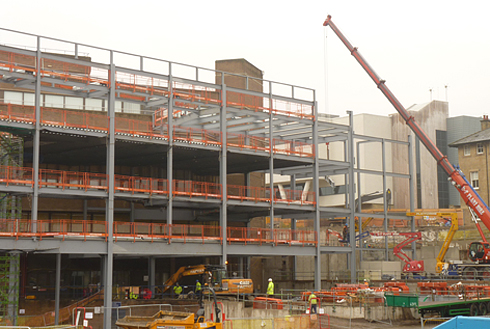 With the groundworks finished, the steel framework is now being erected and the University's Deputy Director of Estates and Facilities, Alan Johnson, is pleased with the progress given the complexities that the huge structure presents: "We've come through the winter on programme and things are looking good. The bad winter weather can sometimes delay the work and as the groundworks progress you never just know what obstacles you may find, despite undertaking a fairly detailed site survey.‌
"The groundworks were particularly tricky because it is very complex structure. It will comprise over 6,500 square metres on six levels and it also has to tie in and connect with the main University Central Services Building," he added.‌‌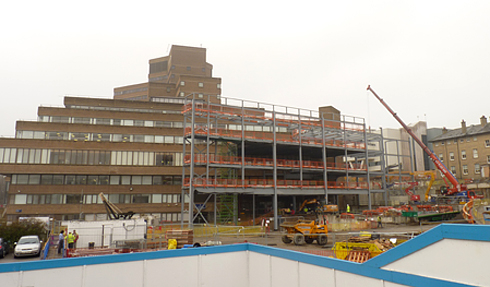 The next big milestone for the construction team is to ensure that the building is completely watertight and this is due for completion over the summer. Work will then switch to the inside of the building.
"For its size and complexity, this will be the largest and most complex project we have tackled on the campus," said Mr Johnson. "As well as numerous sports facilities and a fitness centre, it will also house a variety of service departments, including the Students' Union, Student Services, Careers, the International Student Office and it will have a large food hall. It will also provide a brand new University reception desk and a conference centre."
The architects for the new building are Leeds-based Watson Batty and global company Mott MacDonald were commissioned to carry out mechanical and electrical engineering design and performance services.