New Labour History President
Wed, 28 Nov 2012 12:42:00 GMT
Huddersfield historian becomes the new President of the Society for the Study of Labour History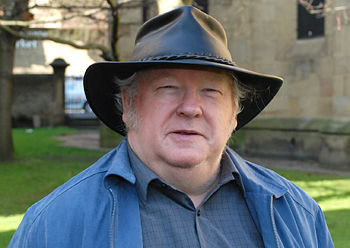 A UNIVERSITY of Huddersfield professor with more than 45 books to his name is the new President of the Society for the Study of Labour History (SSLH). Keith Laybourn was chosen as the successor to the legendary historian, Eric Hobsbawm, who died earlier this year.
Professor Laybourn's specialities include the history of Britain's labour movement – the subject of several of his books – and he was already serving as secretary of the SSLH when fellow members, including several well-known authors, nominated him as the new President.
The vote took place at the Society's AGM, held in Manchester. But Professor Laybourn – a member of the SSLH since the early 1970s – had no inkling that he was in line for presidency.
"We were discussing possibilities and about half a dozen names were mentioned. It was suddenly suggested that I might like the job. The idea had a lot of support and in two minutes flat I had become President!" said Professor Laybourn.
He will see out the second of his two years as secretary of the society, but the Presidency is an open-ended appointment.
The Society for the Study of Labour History was founded in 1960 and has hundreds of members. Now Professor Laybourn wants to see the society grow further and to form close links with parallel organisations in Scotland and Wales.
"The Society is not purely aimed at professional historians," said Professor Laybourn, "anybody with an interest in British Labour History is welcome."
Among forthcoming SSLH events is the 2013 AGM, which will held at Square Chapel, Halifax, and will commemorate the 50th anniversary of a key text, The Making of the English Working Class, by the late E. P. Thompson, who was a history lecturer in Halifax.