New faces for the future
Sat, 05 May 2012 16:00:00 BST
Senior appointments in Art, Design and Architecture
The School of Art, Design and Architecture has made a number of senior appointments and below are some of the new faces on campus.



Left to right - Dr Alison Rowley (Reader in Cultural Theory), Dr Jess Power (Director of Teaching and Learning) and Dr Lisa Stansbie (Head of Art and Communication).
Profiles of the three can be found below...
_____
Dr Alison Rowley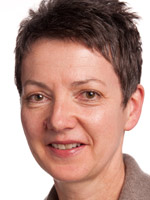 Dr Alison Rowley is the School's new Reader in Cultural Theory. But when she studies works of art and analyses their social significance, she has an advantage – for she is a former artist herself.
"Training first as an artist and then moving across into art history and theory is a helpful transition. Because I have experience making art I can often articulate material aspects of artworks that can be overlooked by art historians," she says.
Born in York, she studied fine art at Middlesex Polytechnic in London, and became a painter and a filmmaker. There was a ten-year period in Australia, but she returned to Yorkshire for postgraduate research on feminism and the visual arts at the University of Leeds, culminating in a PhD and book on the painter Helen Frankenthaler.
Now, Dr Rowley no longer makes art but writes about it. She is currently working on a book that examines the subject of social class in works by the group that became famous in the 1990s as "young British artists", including Sarah Lucas and Tracey Emin.
Dr Rowley lectured in art history, practice and theory at universities in Leeds, Belfast and Liverpool, before taking up her post at Huddersfield.
"Artworks are integral to our culture. Our history is inscribed in them, and often they point towards the future and new ways of understanding the world. We need to recognise that works of art can be, in themselves, theoretical objects – things to think with."
Dr Jess Power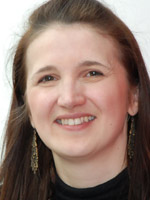 THE School's new Director of Teaching and Learning has an academic and industrial background.
These two dimensions to the career of Dr Jess Power mean that she has a passionate interest in the problems faced by textile and apparel manufacturers when they attempt to realise a designer's vision... and also the difficulties faced by designers as they attempt to keep pace with rapidly developing technology.
These issues are threads that run through her student and her working life. Bolton-born, her first degree was in knitwear design and production. Then it was straight into a job as a design interpreter for the leading company Jaeger, which is part of Coats Viyella, based at Belper in Derbyshire.
"There has always been a problem with how the designer and the technician communicate to realise a design. My role was to ease that communication. Because I had both technical and design knowledge I was liaising between what a designer's expectations were whilst pushing the boundaries of the technology to produce innovative well-fitting garments."
Working in industry was a fantastic experience, says Dr Power, but she still had a strong desire for academic research. After completing a part-time MA she then joined a DTI-funded technical textiles research project at the University of Manchester Institute of Science and Technology. This led to the completion of a PhD. From 2003-2012 she was employed as a senior lecturer at Manchester Metropolitan University taking a variety of roles including Course Leader, Department Research Degree Co-ordinator and more recently Faculty Research Degrees Chair.
During her career she has been involved in, and managed a variety of research projects in textile and clothing related areas. Her research interests include textile innovation, clothing sizing and fit and technical textiles. She has also developed a deep interest education science – andragogy and pedagogy – which will feed into her new role at the University of Huddersfield, where she will oversee teaching and learning in the wide range of disciplines taught by the School of Art, Design and Architecture.
"The goal is to create within the school a synergy between teaching, learning, enterprise and research. My priorities on a day-to-day basis are to lead the teaching and learning within the school and ultimately moving us forward from research-informed to research-led teaching."
Meanwhile, her original areas of speciality are of direct relevance to the courses and the careers of textile and fashion design students at the University. The UK textile industry has declined greatly, she acknowledges, but there are still niches of excellence and innovation and brand names that retain a powerful heritage factor. There are many openings and possibilities for ambitious students.
"It is a case of graduates having a passion for their career and going out to find those opportunities."
Dr Lisa Stansbie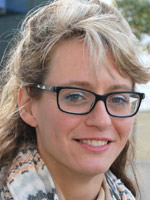 Dr Lisa Stansbie is an internal appointment to the position of Head of Art and Communication, but in addition to her lecturing she fully maintains her career as an artist, producing sculptures, sound works, installations and short films.
Art is so central to Dr Lisa Stansbie's life that even her hobby of long distance swimming has contributed to her creativity.
Later this year she and fellow members of the Etwall Eagles Swimming Club plan a relay crossing of the English Channel. And Dr Stansbie has developed a fascination for some of the rituals, rules and paraphernalia of Channel swimming.
"I have recently produced sculptures based on the apparatus that Channel swimmers make for feeding themselves while in the water. There are some really strange contraptions," she says. Swimmers around the world have sent photographs of their eccentric, home-made gadgets.
Meanwhile, Dr Stansbie continues in training for her own Channel attempt – a relay in which she and five team-mates swim for spells of an hour at time. This will follow earlier feats such as an 18-mile charity swim in Guildford Lido in 2011 and a swim across Lake Derwentwater in the Lake District.
Recent exhibitions include a show at Huddersfield Art Gallery, but she has exhibited and worked in several countries around the world. Before she moved into teaching there was a period in the USA, managing a sculpture studio for an artist based in New York and Arizona.
Later she taught in secondary schools – including Edinburgh's Fettes College – before switching to the college and university sector.
"It is really crucial to be a lecturer who is also a practising artist because it keeps you in touch with current developments in the contemporary art world, which changes so quickly," she says.
There have certainly been changes over the years in the teaching of art at university. Students now cross many of the traditional boundaries of Fine Art, working in a range of media – such as digital processes, photography, sculpture, painting, sound, film and drawing – just as Dr Stansbie does.
"Students usually come to us having learnt certain techniques so we teach them to broaden their knowledge of media, how to undertake different forms of research and how they might present and disseminate their work. Also, we introduce them to current thinking in contemporary art and encourage them to make connections between the theory and what they make as a practitioner."